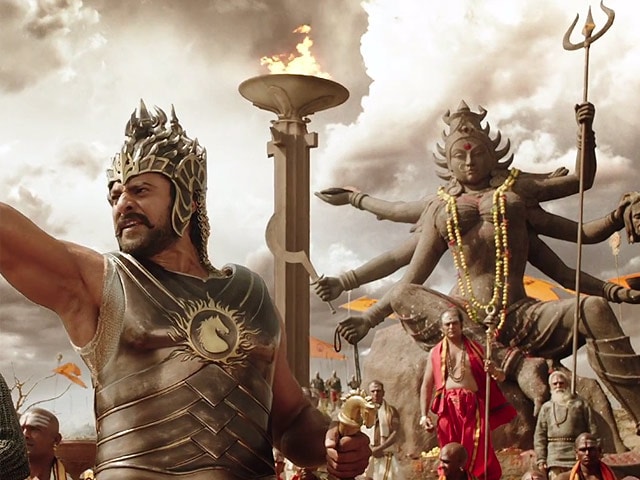 Highlights
Working for Team Baahubali is 'exciting and challenging' for Sabu Cyril
'I am enjoying the challenge,' said art director Sabu Cyril
'We are confident to try out more things in part 2,' he added
Chennai:
Baahubali
garnered such acclaim across the globe that expectations have risen further for
Baahubali 2
, which is currently under production. For its art director Sabu Cyril, who has worked on the original, and is busy designing sets for the next part, both projects seem integrated as one. The man has moved to Hyderabad ever since he started work on the first part two years ago. In an exclusive chat, the creative genius gives a glimpse of the making of
Baahubali
and
Baahubali - The Conclusion
.
Gave up 2.0 for Baahubali

Everyday around 300 to 500 of Sabu's workmen are working on the sets of
Baahubali 2
. From painters and carpenters to moulders, wielders, construction workers and artists, the members of his team have been working continually ever since he signed on for the original. "Baahubali is undoubtedly the biggest film of my career. It's like working in 10 films at the same time. It's one of the most challenging films for me, being a period film and war drama involving such huge sets, characters, warriors, jungles, animals and royalty. But I am enjoying the challenge and have learnt the equivalent of another 10 years of work while working on part 1 and 2," reveals the National Award-winning art director. So much was the work involved that he had to give up several offers including Shankar's
2.0
starring Rajinikanth.
When asked about the best part of working in
Baahubali
, he said: "
Baahubali was a huge project
. Since it was a huge success, we have become more confident to try out more things in part 2. So, I have got a bigger budget and more materials to work with. For instance, I am designing a new kingdom for
Baahubali 2
but I can't reveal any details. So for all this, I am researching heavily from books, the Internet and interactions with experts in order to get newer materials to suit the requirements. Once I decide what materials I need I then have to source them out on a large scale. I am very excited about the opportunity of getting to experiment with new materials, some of which have been imported specially for the film. It's like working in a laboratory, experimenting with newer ways to make credible looking props and sets in the most realistic manner. The success of my work lies in the fact that it fits in so seamlessly that it's not even noticed. Most people thought that a large part was computer graphics in
Baahubali
, when actually it was real sets and props we constructed and used."
Horses, arms et al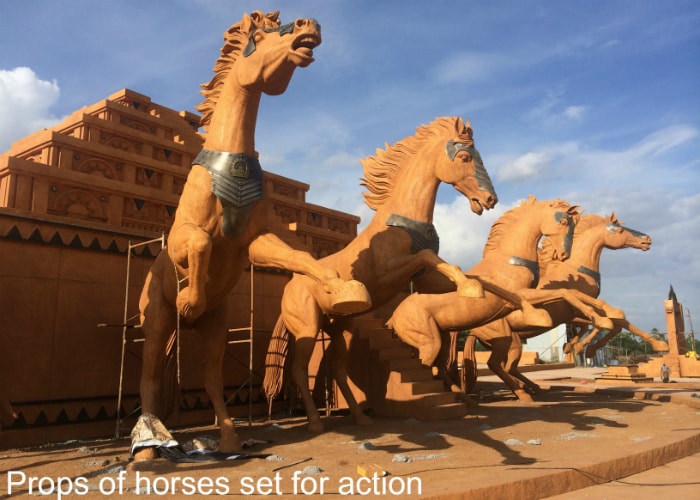 So what exactly is he working on for
Baahubali 2
? "Well to name a few, my team is working on animals. Right from mechanical snakes to horses and elephants, we are making them. For instance, when a horse falls in battle, it's not a real one. Neither is it computer graphics. I have actually made horses out of materials so that they can be shown falling without hurting real animals. We create real looking human dummies shown falling in moving armies or people thrown from heights. We use a lot of prosthetics like the false arm for Nasser, which had to be shown moving in a certain way. So I have to conceive scenes sitting with the director and work out ways of making things seem real yet usable. For example, the weapons we create should look heavy and menacing but should be light weight enough for the actor to use convincingly," Sabu explained.
A day on the sets of Baahubali 2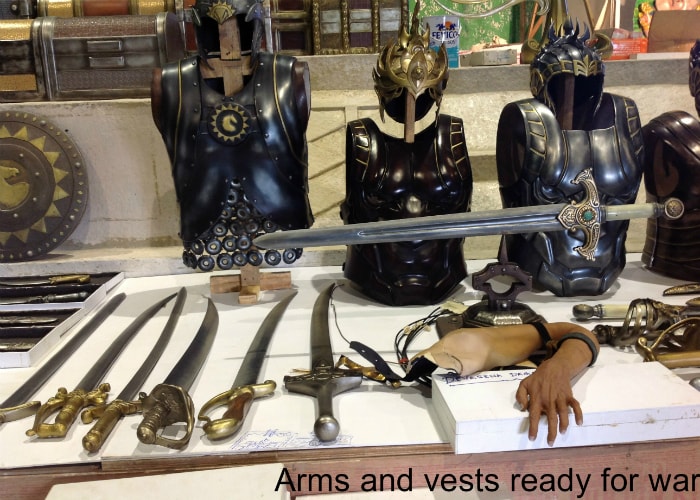 Sabu spends his day inspecting the work on sets and later divides his time between conceptualising scenes and researching the best materials to work with. A large part of his day is also spent visiting wholesalers, shops and warehouses to check out the latest materials to be used innovatively for the film. Talking about the most exciting feature of
Baahubali 2
, he said: "We are working with several new materials which are usually not used in films. Ironically, we are actually using the most modern materials for a period film. The best part is that I am using industrial purpose products for the first time and that too in such a large scale. Many of these are expensive but necessary and are being innovatively put to use."
Throwing more light on the topic, Sabu explained with examples, "There are dozens of products being used. I'll try to name a few for you. For instance we are doing 3D printing in both parts of the film. Then I have used Carbon Fibre for the first time. This is a material that is used in helicopter blades. It's lightweight but strong as steel. Then there is Integrated Rubber Foam which is normally seen on gym machines and cycle bars. I have used it to make menacing looking weapons which don't hurt the actors, are soft to use but look strong. We use it for chains, helmets, rocks and boulders and war sequences. In fact, the Shivlinga the hero carried on his shoulder was made of this. We made 5 different
Shivalinga
s to be used in different sequences of the film."
But the list doesn't end there. Sabu continued, "For human dummies and falling armies and animals, we have used Flexi Foam. With every new scene Mr Rajamouli conceptualises, we bring it to life after much research. So according to the need of the script I have to constantly innovate and experiment. It's both exciting and challenging at the same time."
(Except for the headline, this story has not been edited by NDTV staff and is published from a syndicated feed.)