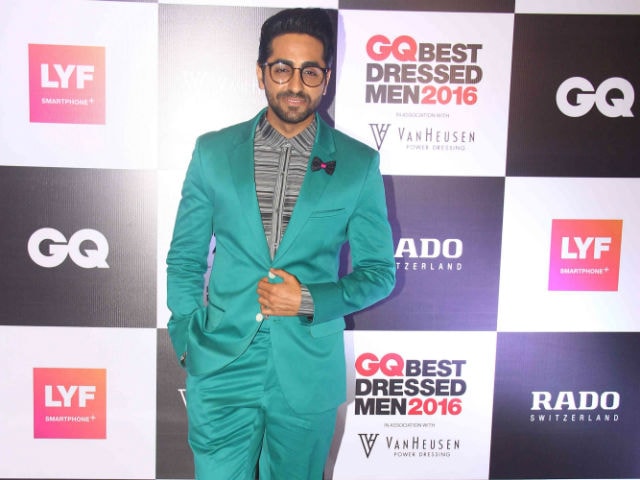 Highlights
Ayushmann is known for his songs like Paani Da Rang
He will be seen next in Meri Pyaari Bindu
Meri Pyaari Bindu also stars Parineeti Chopra
Mumbai:
Ayushmann Khurrana said that though there is a trend of actors singing songs, "pure singers" should not worry as actors can never overpower them.
Actors like Salman Khan, Alia Bhatt and Sonakshi Sinha have sung tracks in films or released independent music singles.
Ayushmann, who has sung many popular songs like
Paani Da Rang
and
Saadi Galli Aaja
, said that singers can never be "dominated" by actors.
"Actors can never overpower pure singers. Singers can never be dominated. While actors singing songs is a welcoming trend, pure singers have nothing to feel insecure about," Ayushmann told PTI.
The
Dum Laga Ke Haisha
star said that when an actor sings in his own voice, it has a wider reach.
"It happens in the west where actors sing in their own voice and you don't lip-sync. An actor singing a song helps to grab some eye balls. We consume music visually. So, there is no harm in that," he added.
When Ayushmann was asked if there is also an issue of using auto-tune to enhance a singer's voice, he said: "I don't know about auto-tune. But to some extent, every singer's voice is slightly tuned for sure. It happens for various reasons to adjust the track and give it a good touch. But it is in the interest of the track."
The actor will be singing his hit songs during a live radio concert."I decided to be a part of it because the concept is one of its kind. Radio is an exciting medium and the line-up of other singers is so exciting," Ayushmann said.
When Ayushmann was asked if singing live is the true litmus test of a singer, he said, "Absolutely. You can't cheat the listeners there. In studio, whole recording songs, you may select the best take but not while singing live."
Ayushmann will be seen next in
Meri Pyaari Bindu
opposite Parineeti Chopra where he plays the role of a Bengali author who falls in love with his neighbour.
(Except for the headline, this story has not been edited by NDTV staff and is published from a syndicated feed.)