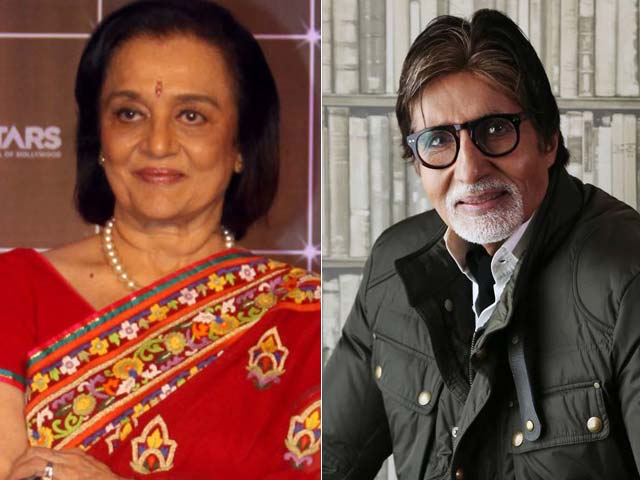 Highlights
Ms Parekh says, "If I get to play the central character, I will"
"Mr Bachchan is lucky and blessed by God," feels Asha Parekh
Asha Parekh wasn't happy playing the mother
New Delhi:
Asha Parekh, who had ruled Bollywood in the Sixties, admits that there was a dearth of good roles after a point, which forced her to retire from acting, reported news agency PTI. The 74-year-old actress, who has acted in films like
Teesri Manzil
, said that it was, however, rare that one is as lucky as Amitabh Bachchan, who got a chance for his "second innings" in the industry. She told PTI, "It wasn't a difficult decision as such. You have to accept certain situations in life. I am ageing so I should take it gracefully. Mr Bachchan has got a second innings. He is lucky,
blessed by God
. People make films where he is the central character. We don't get these sort of opportunities. If I get something like that, I would definitely like to work."
The
Love In Tokyo
actress also added that she was only offered limited roles after a certain age and people only approached her to portray roles of a mother. She told PTI, "Work started coming to me less, people approached me for the "role of a mother". I did a few (referring to playing mother) but I wasn't happy doing that. I wasn't convinced that what I was doing was right."
In fact, she also had to bear the tantrums of her male co-actors, who walked in late for shoots. "I remember there was one film where I (felt) tortured because the hero would come at 6:30 in the evening for a 9:30 morning shift. It wasn't working out for me. There was no way I could put myself through all of this. I didn't want to wait from morning till evening to give a shot. I decided I didn't want to work anymore," she told PTI. Asha Parekh,
who made her debut in
Bollywood with the film
Aasmaan
, is also known for films like
Do Badan
,
Upkar
and
Caravan
.