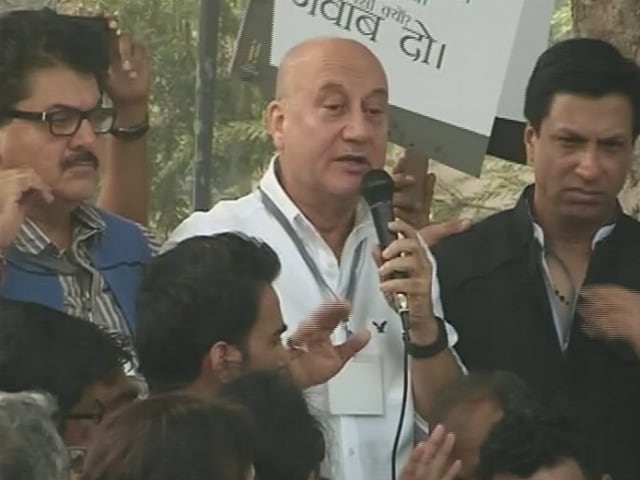 New Delhi:
Bollywood veteran Anupam Kher is leading a march to the Rashtrapati Bhavan in New Delhi on November 7, to protest against the voices being raised over 'intolerance' in the country.
The actor claims that the debate on 'intolerance' is an attempt to malign the image of the country and is intended to target the Narendra Modi-led government at the Centre.
"Nobody has the right to call our country intolerant. We are secular people and don't believe in selective outrage," Mr Kher said on Saturday morning.
"I have right to go to the President and say that we don't feel India is intolerant. These talks can't happen only on twitter or Facebook, they need a personal presence," the actor has said. (Also Read:
Bollywood Divided: 9 Actors Who Don't See the Point in Returning Awards
)
Urging people to join his march, Mr Kher tweeted this morning:
Patriotism gives us a feeling of self worth. Join us on this historical day at National Museum, Janpath at 10am.:) #MarchForIndia

— Anupam Kher (@AnupamPkher) November 7, 2015
He is joined by a string of artistes, writers and painters, including Madhur Bhandarkar, Narendra Kohli, Ronu Majumdar, Chandraprakash Diwedi, Priyadarshan.
Dubbing the march as a "campaign for truth", Mr Kher earlier shared on Twitter: "This #AwardWapsiGang has not insulted the government, but the jury, the chairman of the jury and the audience who watched their films."
This follows the decision of a host of filmmakers, including the likes of Dibakar Banerjee and Anand Patwardhan, as well as writers and historians to raise voice against the rising 'intolerance' under the BJP-led government, and to return various government awards and honours.