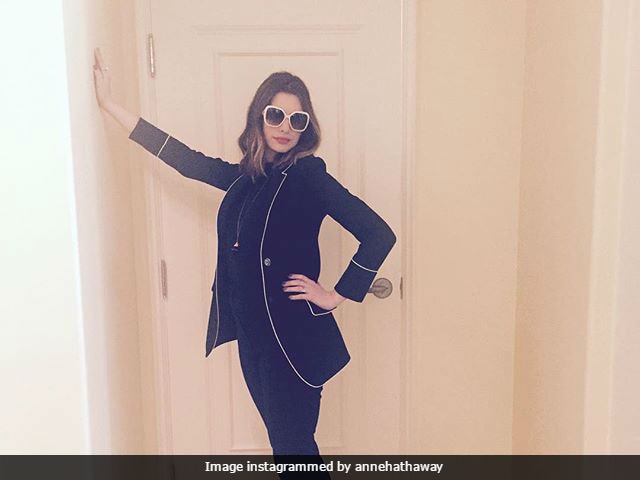 Highlights
"I've never been in a film like this (Ocean's Eight)," said Anne Hathaway
Ocean's Eight is an all-female spin-off of the Ocean's Trilogy
Ocean's Eight is scheduled for release on June 8, 2018
New Delhi:
Anne Hathaway, who is currently shooting for her upcoming film
Ocean's Eight
, told
etonline
she was encouraged while working on the nearly all-female set of
Ocean's Eight
. The film, which is an all-female spin-off of the
Ocean's
Trilogy, is being directed by Gary Ross. Sandra Bullock, Cate Blanchett, Helena Bonham Carter, Rihanna, Sarah Paulson, Mindy Kaling and Awkwafina will also feature in the movie.
Ocean's Eight
is scheduled for release on June 8, 2018. The 34-year-old actress told
elle
magazine: "Hollywood is not a place of equality. I don't say that with anger or judgment, it's a statistical fact. And even though I've been in some female-centric films, I've never been in a film like this (
Ocean's Eight
)."
"It just kind of makes you aware of the ways you sort of unconsciously change yourself to fit certain scenarios," said Anne Hathaway. "It's not better or worse, or right or wrong, but there are certain things you understand about one another because of experiences you have in common. It's probably easy for men to take that for granted. Just being on a set where I'm the one who possesses that ease is really something. It's a nice alternative narrative," she added.
The Princess Diaries
actress will feature on cover page of Elle Magazine's April issue. Anne Hathaway recently posted a picture on Instagram, captioned: "Thrilled to be on the cover of @ElleUSA! This was one of the most positive experiences I have ever had on a shoot - thank you: Hair: @estherlangham Nails: @deborahlippmann Makeup: @kateleemakeup Photographer: @terrytsiolis Stylist: @samiranasr EIC: @robbie_elle(sic)."
Anne Hathaway was last seen in the 2016 movie
Colossal
, directed by Nacho Vigalondo. The film also featured Jason Sudeikis, Dan Stevens, Austin Stowell, and Tim Blake Nelson in lead roles. In 2013, she won the Oscar for Best Supporting Actress for her
performance in Les Miserables
. The film, which was directed by Tom Hooper, also won her the Golden Globe, BAFTA, and SAG Awards for her performance.