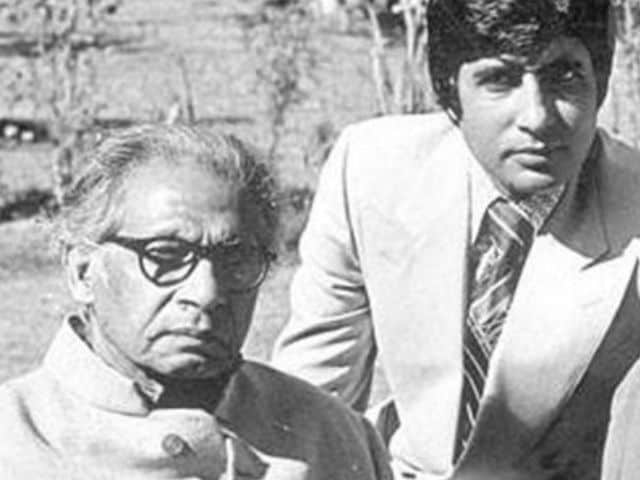 Highlights
Amitabh Bachchan celebrates his 74th birthday today
The actor revealed the story behind his father's belief on his blog
Amitabh Bachchan was last seen in critically acclaimed Pink
New Delhi:
Bollywood actor Amitabh Bachchan says that his father, poet Harivansh Rai Bachchan, believed that the actor is an incarnation of his father, Pratap Narayan Shrivastava. In his official
blog
, Mr Bachchan talked about the night he was born and the incident after which his father believed so.
He writes...
About this time of the night, 74 years ago, my Father had a dream, where his Father appeared and told him to get up, for he was about to have a son. My Father got up with a start and discovered my Mother, pregnant with me, but not due for many more days, missing from the bed. She had gone to the wash room and had almost collapsed there with the final pains of delivery. Some hours later she gave birth to a boy. That boy was me !

My Father for some reason always believed that I was the incarnation of his Father, after this incident. I do not know if I have been true to the incarnate presence of my Grandfather, but it has never been short of effort. The blessings of the Almighty and the affection and prayers of elders, has, through good fortune, remained with me throughout, and I am indebted to them, and all those, that have since, given me the love and regard of a magnitude that is immeasurable !
Amitabh Bachchan, now 74
, is one of Bollywood's biggest stars. Big B was in a reflective mood as he addressed his fans and well-wishers in the
blog
, and said: "I cannot say with conviction what it is that I may have done for this to happen to me. But this I can say, that what I did and do and hopefully shall continue to do, shall always bear in mind the presence of my well-wishers, the discipline and up-bringing of my parents and the blessings of that unknown power, the Almighty, that has by my side ever."
On Facebook and Twitter,
Mr Bachchan thanked fans
, saying:
T 2405 - To them that bring all the love and wishes for the birthday .. folded hands in gratitude .. !! pic.twitter.com/q7HE9PgVLf

— Amitabh Bachchan (@SrBachchan) October 10, 2016
One of Mr Bachchan's upcoming films is
Thugs of Hindostan with Aamir Khan
. The film is produced by Yash Raj Films. He has also been roped in for an important role in Ayan Mukerji's superhero film, tentatively titled
Dragon
, which stars Ranbir Kapoor and Alia Bhatt.