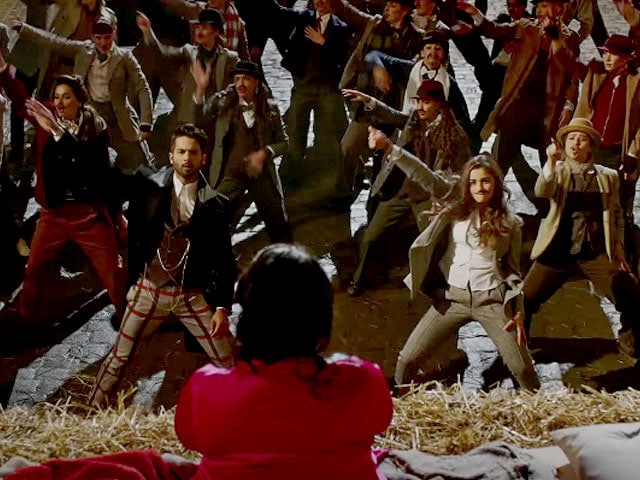 New Delhi:
A 'making of' video explains much that left us mildly puzzled by
Gulaabo
, the song from
Shaandaar
featuring lead actors Shahid Kapoor and Alia Bhatt and Shahid's step-sister Sanah, making her debut.
For one, Sanah is Gulaabo. But that's not actually her name in the film, just the song. As Alia explains, 'Alia and JJ (Jaginder Joginder, played by Shahid) are trying to cheer up Eesha' - with a bachelorette party.
For another, despite the beer tankards clinking and the haycarts and the fedoras, the look director Vikas Bahl was going for wasn't German barnyard but New York underground ghetto.
For a third, everyone's dressed in menswear and moustaches - even the women - to make Eesha, as the lone damsel, the centre of attention.
Oh, and lest we forget, that's Gulaabo on the poster, not Jessica Rabbit.
Among other details spilled is this from choreographer duo Bosco-Caesar on Alia and Shahid's much-awaited part of the song: "They would only wait for that section of the song, where people would go mad doing their funny dance." Yes, we know exactly what he means. (Also Read:
Alia Bhatt's Shaandaar Gender Bender in New Song Gulaabo
)
Composed by Amit Trivedi with vocals by Vishal Dadlani and Anusha Mani,
Gulaabo
has quirky lyrics by Anvita Dutt.
Shaandaar
, which also stars Sanjay Kapoor and Anjana Sukhani, is slated to hit screens on October 22. (Also Read:
Following Bollywood's Thin Pink Line to Shaandaar's Gulaabo
)
Alia wants you to 'watch the madness come to life' - you can do that here:
Watch: