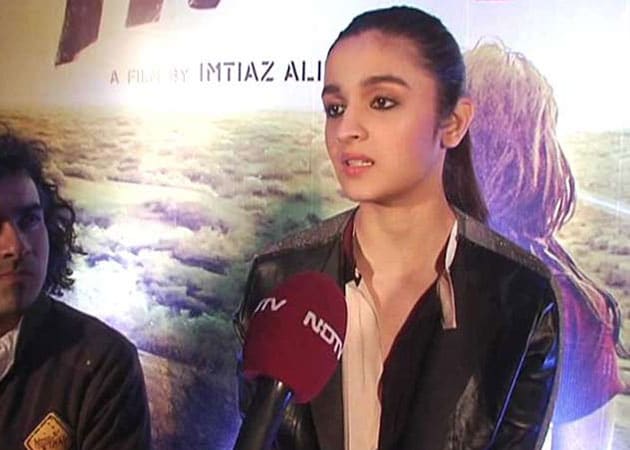 Highlights
Bollywood actress Alia Bhatt told NDTV that she doesn't regret performing at the much-criticised Saifai Mahotsav but added: "In life, I need to be more aware." Alia also clarified that her father Mahesh Bhatt has not said he was upset that she performed at Saifai: "He just said he was upset he didn't make me aware because he didn't connect the dots."
Alia and other stars, including Salman Khan and Madhuri Dixit, have been slammed for performing at Saifai, which is Samajwadi Party chief Mulayam Singh Yadav's village, while thousands of riot victims battled to survive in Muzaffarnagar.
Alia, who was speaking to NDTV while promoting her new film Highway, received high praise from director Imtiaz Ali who said she constantly inspired and surprised him while they were shooting the film. "She constantly had something to add to the film," he said.
Imtiaz also rubbished comparisons between Alia and his Jab We Met heroine Kareena Kapoor, saying: "They are both very interesting actors to watch. She is more like Ranbir Kapoor than like Kareena in real life." Alia said, "Ranbir and Imtiaz have this cool connection which everybody can see. Similarly Imtiaz and I have a connection which nobody can see."
A connection that perhaps Highway will reveal.
Watch video
New Delhi:
Bollywood actress Alia Bhatt told NDTV that she doesn't regret performing at the much-criticised Saifai Mahotsav but added: "In life, I need to be more aware." Alia also clarified that her father Mahesh Bhatt has not said he was upset that she performed at Saifai: "He just said he was upset he didn't make me aware because he didn't connect the dots."
Alia and other stars, including Salman Khan and Madhuri Dixit, have been slammed for performing at Saifai, which is Samajwadi Party chief Mulayam Singh Yadav's village, while thousands of riot victims battled to survive in Muzaffarnagar.
Alia, who was speaking to NDTV while promoting her new film
Highway
, received high praise from director Imtiaz Ali who said she constantly inspired and surprised him while they were shooting the film. "She constantly had something to add to the film," he said.
Imtiaz also rubbished comparisons between Alia and his
Jab We Met
heroine Kareena Kapoor, saying: "They are both very interesting actors to watch. She is more like Ranbir Kapoor than like Kareena in real life." Alia said, "Ranbir and Imtiaz have this cool connection which everybody can see. Similarly Imtiaz and I have a connection which nobody can see."
A connection that perhaps
Highway
will reveal.
Watch video