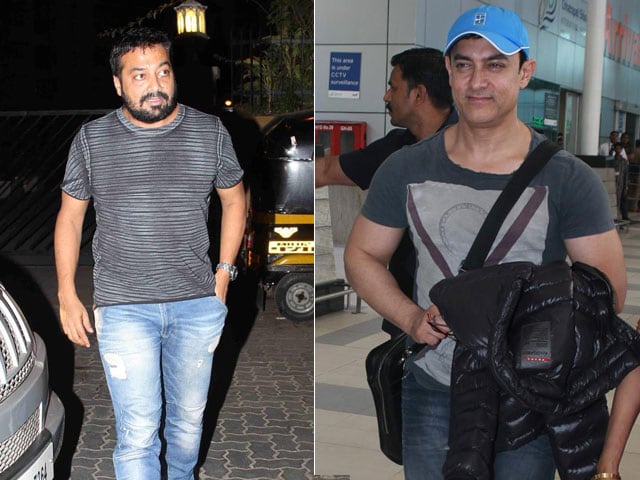 Mumbai:
Bhaag DK Bose was a rather controversial song from Delhi Belly, a film directed by Abhinay Singh Deo, starring Imran Khan, Kunal Roy Kapoor and Vir Das. The producer of that film, panned by many for its language, was none other than Aamir Khan. Not only did Aamir produce the film, he was so impressed with the project that he even became part of an item song, a song that wasn't too far away from what DK Bose had to offer. I hate you like I love you too wasn't meant for everyone's eyes. Aamir played a mix of Mithun and Pelvis, err sorry Elvis. (Also Read: AIB Roast Wasn't Funny, It was Violent: Aamir Khan)

But why do you think are we talking about this 2011 film and Aamir Khan now? Well, to clarify things, it's not us but director Anurag Kashyap who hasn't taken too kindly to what Aamir Khan had to say about the AIB Roast, the much controversial show starring Karan Johar, Arjun Kapoor and Ranveer Singh that was pulled down from YouTube due to its content. At a recent event, Aamir said, "I was most disappointed in what I was hearing. I completely believe in freedom of speech but we have to understand that we all have a certain responsibility. When I heard what was being told to me, it was a very violent event. Violence is not just physical, it can be verbal or emotional. When you insult someone you are perpetuating violence and you are boasting to the world 'Look how violent I am'.

Now Anurag Kashyap was one of the people present at the Roast and seemed to quite enjoy himself, so when Aamir said what he had to say about the Roast being violent, Mr Kashyap was quick to reply. But this time he chose to show what Aamir had to say about adult content when Delhi Belly was up for release. Mr Kashyap posted a link on his Facebook page where Aamir had spoken in defence of the DK Bose song. Aamir had said, "I have already informed my audiences that it is an adult film. Please do not go with your kids and those who have a problem with this kind of language shouldn't come either. I try my best to inform the audiences before-hand. Then they can decide themselves. If the audience is adult, they can decide themselves. So from my end I do all these things for my fans."


Mr Kashyap may not have said much, but by posting the links he clearly points out Aamir's two different takes on the same issue. We can't wait to hear what Aamir Khan has to say.Watch: