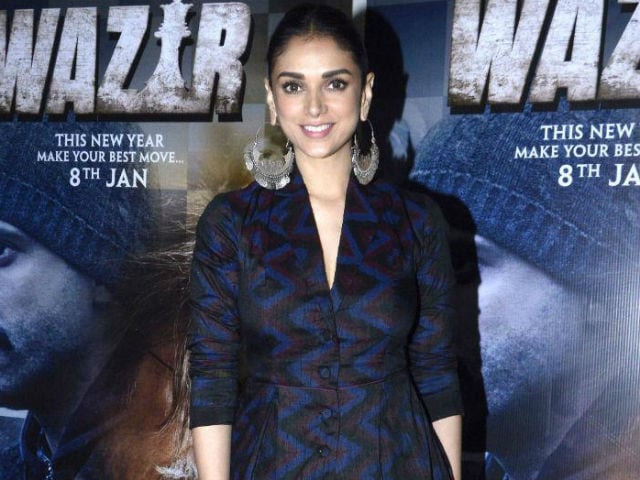 Mumbai:
Actress Aditi Rao Hydari, who will soon be seen in
Wazir
, said that she feels like an outsider in Bollywood.
Aditi has featured in films like
Delhi 6
,
Yeh Saali Zindagi
and
Rockstar
.
"I do feel like an outsider in little ways. For example, on social media, sometimes I feel I don't have the support system which somebody else has. When I put something on social media, some people will support me and will be genuinely sweet about it. But for somebody else, they all have their cousins, friends, uncles and aunts," Aditi told PTI.
"All that they have to do is send them a text saying 'please do it' and they'll do it. It's natural, which is why I never resent it. I also know that it is not important in the larger scheme of things but it becomes important because in today's digital world we are so image driven," added Aditi.
Aditi also said that she does not have a big production house which supports her.
"I don't have a big production house, big director or a big actor backing me. I am taking things step by step. I came from outside. I knew nobody. I don't know how to play the game. I can't think of schemes or ways to put myself ahead of others or back stab somebody. Every day is a struggle. Till today, I struggle to do the films I want to do," added Aditi.
The actress also said that she does not have the liberty to collaborate with a filmmaker of her choice.
"I don't think I have the power to say, that today I want to work with so and so. But I do have the power to choose from what is in front of me, and the power to hope. I am a very positive person and I know if something great is meant for me, it will come to me," added Aditi.
Aditi said that she got her role in
Wazir
after auditioning for it. (Also Read:
Vidhu Vinod Chopra Took 'Just One Second' to Cast Aditi in Wazir
)
"I have no ego about auditions. As an actor, I think it is right to do an audition. It is fine. I am not talking about going to an audition with 85 people already standing in the line. I don't believe in that kind of process because that is ridiculous. But, you have to feel the character and the person has to see you in that way," said Aditi.
"Stereotyping is a bit of an issue. The problem is that people give terms to things - niche film, bubbly girl, intense actress, big star movie. I wish we didn't trap ourselves in these terms because we limit ourselves badly that way," she added.
Wazir
will release on January 8.