New Delhi:
Highlights
A grand reception has been planned for the couple on October 31
Akshita's family shared two pictures from the wedding
The family looked happy together
Actor Vikram's daughter Akshita got married to DMK chief M Karunanidhi's great grandson Manu Ranjith on Monday. The low-key wedding ceremony was conducted at Karunanidhi's Chennai residence while a lavish reception for the newly-weds has been planned for October 31. Akshita's family shared pictures of the bride and the groom seeking blessings from the 94-year-old leader, who is confined to his home over the last one year following respiratory illness. In one picture (above) Akshita and Manu Ranjith posed with Karunanidhi while in another Vikram and Manu Ranjith' family also joined the trio. Last year Karunanidhi had presided over the couple's engagement as well. Here's the second picture taken after Akshita and Manu Ranjith's wedding ceremony.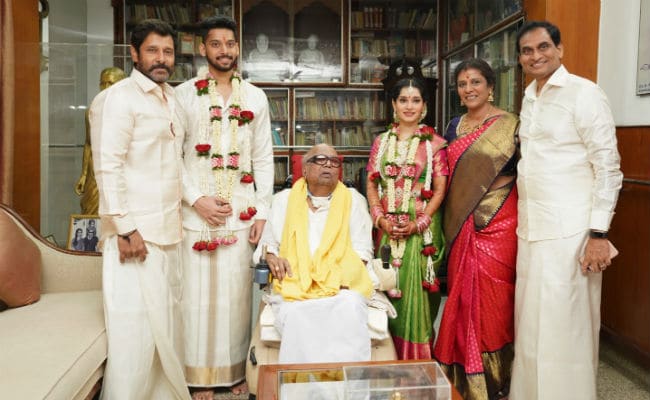 "The ceremony was held at former Tamil Nadu chief minister and DMK patriarch Karunanidhi's residence located in Gopalapuram, Chennai. The families of the couple have decided to throw a lavish wedding reception on Tuesday, October 31, at Mayor Ramanathan Hall, MRC Nagar," reports International Business Times.
Vikram married Shailaja Balakrishnan, a psychology teacher at a leading school in Chennai, in 1992. Apart from Akshita, the couple has a son named Dhruv, who reportedly wants to make a career in films. Vikram, who has made films such as
Sethu
,
Kasi
,
Raavanan
and
Thaandavam
won Best Actor National Award in 2003 for his role in
Pithamagan
.