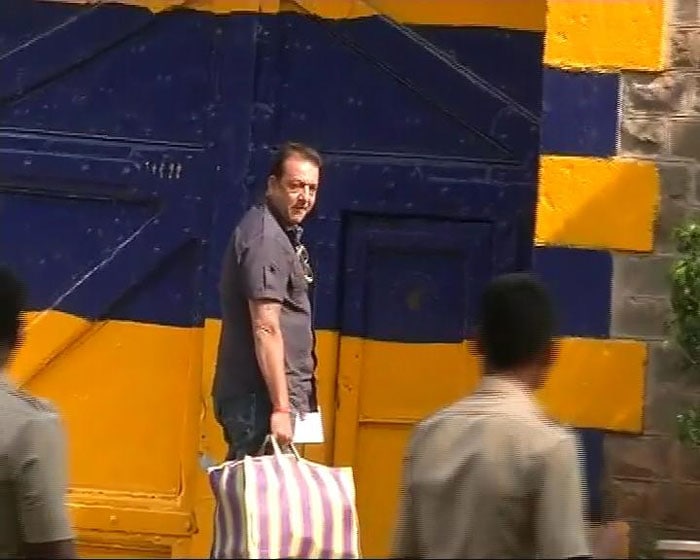 Highlights
Actor Sanjay Dutt returned to Pune's Yerawada Jail today after his 30 day leave ended. His wife Maanyata accompanied him upto the gates of the jail.
Mr Dutt left his Mumbai home, where spent his leave, for Pune early this morning. He thanked the media for respecting his privacy during this time as he had requested. He also told news agency PTI, "I still have a problem in my legs but it is a bit better than before. Pray for me so that I can come out soon. Happy Diwali to all."
Mr Dutt, 53, was given two weeks of leave on medical grounds on October 1 and was granted an extension of another two weeks later.
Mr Dutt is serving the remaining 42 months of his sentence for illegally possessing arms in a case related to the 1993 Bombay blasts. Earlier this year, he was convicted by the Supreme Court and sentenced to five years in prison. He has already served 18 months of his term.
With PTI inputs
New Delhi:
Actor Sanjay Dutt returned to Pune's Yerawada Jail today after his 30 day leave ended. His wife Maanyata accompanied him upto the gates of the jail.
Mr Dutt left his Mumbai home, where spent his leave, for Pune early this morning. He thanked the media for respecting his privacy during this time as he had requested. He also told news agency PTI, "I still have a problem in my legs but it is a bit better than before. Pray for me so that I can come out soon. Happy Diwali to all."
Mr Dutt, 53, was given two weeks of leave on medical grounds on October 1 and was granted an extension of another two weeks later.
Mr Dutt is serving the remaining 42 months of his sentence for illegally possessing arms in a case related to the 1993 Bombay blasts. Earlier this year, he was convicted by the Supreme Court and sentenced to five years in prison. He has already served 18 months of his term.
With PTI inputs