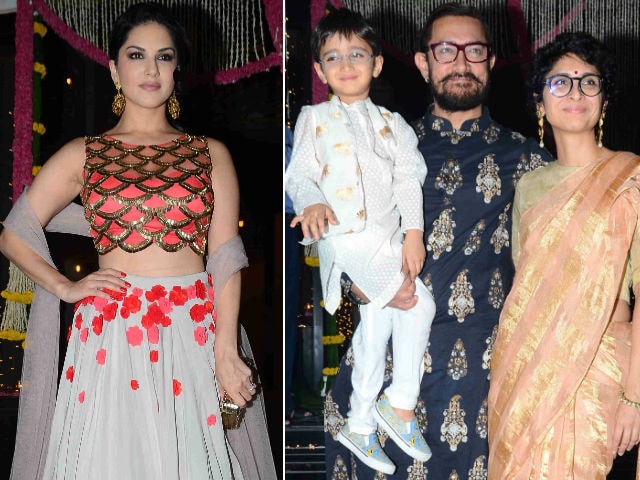 Highlights
Sunny Leone and Daniel Weber were a part of Aamir's Diwali celebration
The party was hosted by Aamir and his wife at their Mumbai residence
In early 2016, Aamir had invited the couple for lunch with him as well
New Delhi:
The guest list for Aamir Khan's Diwali party on Sunday evening was, as expected, a roll call of Bollywood's brightest - and among them, was actress Sunny Leone. Sunny, in a
lehenga
, arrived for the party on husband Daniel Weber's arm.
While most others in Bollywood party-hopped between Aamir's, Anil Kapoor's and
Amitabh Bachchan's festivities
, Sunny and Daniel were photographed only at the
Dangal
actor's do. Why the 35-year-old actress' presence at Aamir and Kiran Rao's home was special is because just months ago, Sunny made headlines after appearing on a TV interview widely panned as sexist, judgmental and disrespectful.
In the course of the interview,
Sunny was quizzed
about her past career as an adult film star and asked if an actor like Aamir would want to work with her in a Bollywood film. Days after the interview aired and support grew for Sunny's handling of the difficult questions, Aamir thrilled everyone by tweeting: "I think Sunny conducted herself with a lot of grace and dignity in this interview.... I wish I could have said the same about the interviewer. And yes Sunny, I will be
happy to work with you
. I have absolutely no problems with your "past", as the interviewer puts it. Stay blessed. Cheers. Aamir"
This alliance, having begun serendipitously, progressed in fits and starts. Aamir told the press that he had been
'hurt' by the interview
and reiterated that he had no 'problems' working with Sunny. In New Delhi for
Dangal
later, he invited Sunny and Daniel - who also happened to be in town - for lunch at his hotel.
And now, a Diwali invite to his home. In January, when the much reviled interview aired, there was a massive show of support for Sunny from the rank and file of Bollywood. Many months later, Aamir Khan, at least, has not forgotten.
For her part, Sunny Leone has never made a secret of admiring Aamir's work. "Even if I get the opportunity to work with him for a second, I would be the happiest girl in the world forever. Even if I am just passing behind, I would be very happy. I think it is any actor's - whether it is male or female - dream to work with such an amazing person and such an amazing actor," she told news agency IANS.
Aamir Khan's new film
Dangal
opens this Christmas weekend. Sunny Leone does not appear in it - but she does
have a special song
in next January's
Raees
with Shah Rukh Khan.