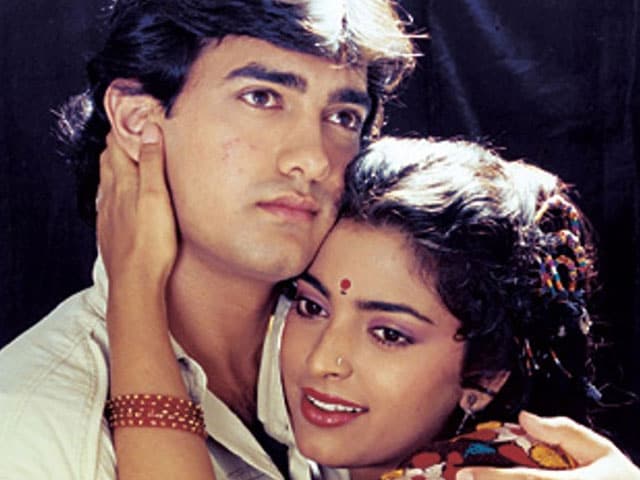 Aamir Khan's
Qayamat Se Qayamat Tak
is celebrating its 27th birthday today. On Twitter, '27 Years of QSQT' is trending.
In 1988,
Qayamat Se Qayamat Tak
released and revived the fading fortunes of Nasir and Tahir Hussain, producer-director brothers who had delivered hits such as
Yaadon Ki Baraat, Teesri Manzil
and
Caravan
but whose best times were behind them.
Qayamat Se Qayamat
, a
desi
Romeo and Juliet tale of love and revenge, starred Aamir Khan - son of Tahir Hussain - and was directed by Mansoor Khan - son of Nasir Hussain. The film also starred Juhi Chawla, starting out as an actress after winning the Miss India pageant.
Qayamat Se Qayamat Tak
was an instant blockbuster, propelling it's young hero to matinee idol status overnight. All of 23, a fresh-faced Aamir had a million female fans swooning as he crooned
Papa Kehte Hain
, strumming a guitar. The same female fans were left with shattered hearts when they discovered later that the girl Aamir sings
aankhon mein jaadu, hothon mein pyaar
to was his real-life wife, Reena.
When the film became a hit, Mumbai distributors decided to cash in by offering a free poster of Aamir and Juhi for eight or more tickets bought. The gimmick worked, boosting ticket sales even further.
Qayamat Se Qayamat Tak
also started the trend of having films referred to by an acronym of the title. QSQT led to DDLJ (
Dilwale Dulhaniya Le Jayenge
), HAHK (
Hum Aapke Hai Kaun
) and several others.
27 years later, Team QSQT is missing producer Nasir Hussain, lyricist Majrooh Sultanpuri and cast member Goga Kapoor. When the film celebrated it's quarter-century two years ago, heroine Juhi Chawla told news agency IANS, "we were all relatively new, therefore, most comfortable working together. There was no stress, no stretched nerves and frayed egos."
She also said that two climax scenes were filmed: "We shot two endings -- a tragic and a happy ending. Did we all want a tragic ending for the lovers in the film? No one asked us. We just went by what we were told, though I suspect Aamir was consulted about the ending." In the final cut, Raj and Rashmi - the characters played by Aamir and Juhi - die.
"None of us knew how the film would turn out," Juhi said.
They know now.