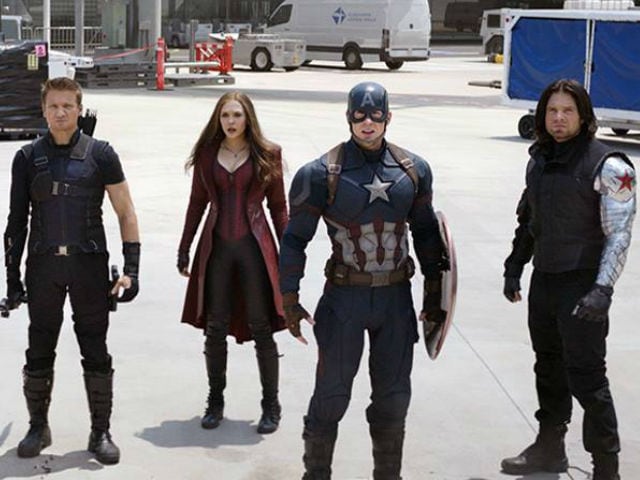 Washington:
It's not a question of whether
Captain America: Civil War
is Marvel Studios' best movie yet. With
Friday's release of Marvel's greatest film
, the debate immediately becomes: Where does this movie rank within the history of comic-book cinema?
Captain America's
Civil War
visage is fit to be carved on the Mount Rushmore of comic-book movies. But where to make room alongside such greats as Tim Burton's first
Batman
film, the first two Sam Raimi
Spider-Man
movies, the second
X-Men
film and Christopher Nolan's
The Dark Knight
? Let's delve into how Cap stacks up.
With the Russo brothers as directors, what Kevin Feige and his entire Marvel Studios team have achieved with this third Captain America film is cinematic magic - the culmination of a Marvel Cinematic Universe that has been allowed to luxuriously build out its interconnected films over the years, with 2008's
Iron Man
as the true launch pad.
Civil War
features two flush teams of superheroes duking it out, yet it never feels overcrowded, even as two new MCU franchise characters are introduced in Spider-Man (Tom Holland) and Black Panther (Chadwick Boseman).
Here are eight key takeaways from
Captain America: Civil War
:
1. The next Avengers movies will have a tough time topping Civil War
Who knew that
Civil War
would set the bar so high for the forthcoming Avengers films (
Avengers: Infinity War
Parts 1 and 2). As directors, Joe and Anthony Russo might need personalized Infinity Gauntlets to try to craft an Avengers tale with Thanos (the baddie in the next Avengers films, of course) that can top
Civil War
. It's now abundantly clear why Marvel has decided to let the Russos guide the next stages of the assembled Avengers. With their two Captain America films, the Brothers Russo have turned the character into Marvel Studios's top superhero franchise.
2. Spider-Man is brilliantly "rescued" by Marvel
What a difference Marvel Studios makes. Now that Marvel and Sony share joint custody of the wallcrawler, Marvel has shown the power of its oversight by making us actually want another Spider-Man movie. As the new Peter Parker, the teenaged Tom Holland steals scenes and holds his own opposite Chris Evans and Robert Downey Jr. Holland's charisma shines whether he's in costume or not, and he provides the Spider-Man franchise with something it's never had: genuine youth.
3. Black Panther is triumphant
As regally portrayed by Chadwick Boseman, Black Panther's MCU arrival lives up to the hype. The Black Panther doesn't just appear for a cat-suit cameo; he plays a major part in
Civil War
, and is connected to the future of Marvel in a massive way. If you loved this character on the comics page, you will not be disappointed with the screen incarnation.
4. RDJ shines, but this is Chris Evans' movie
Downey Jr. may be the most naturally charismatic actor in the MCU - and his
Iron Man performance
here is his most emotional yet - but he doesn't dominate
Civil War
because he pitches his performance just right. Meanwhile, Evans gives his best performance yet as Steve Rogers/Captain America. Here, Cap is a soldier who opposes government interference - a stance that comes from the heart as he looks out for his fellow Avengers. That narrative allows Evans enough of a spotlight to exude a steely, sometimes quiet strength. That puts one fact into high relief: Downey becomes Iron Man when the high-tech suit comes on; Evans is Captain America whether he has donned the mask and shield or not.
5. The Cap and Bucky brotherhood resonates
Since the first Captain America movie (2011's
The First Avenger
), we've witnessed the bond between Steve Rogers and James "Bucky" Barnes. Before he became an Army experiment, the oft-bullied Steve Rogers couldn't defend himself, let alone his country. But Bucky was always there to help him. So even after being injected witih super-serum, Rogers has forgotten those acts of friendship. In
Civil War
, when Bucky is in the crosshairs of a world convinced he's a dangerous terrorist, his bond with Steve is at the dead-center of a new conflict. Steve can't abandon Bucky, even when Iron Man is the one taking aim.
6. The biggest superhero battle delivers
Civil War
's action hits a high when Team Cap and Team Iron Man clash at a German airport, and this epic scene delivers payoff after visual and verbal payoff. Spider-Man becomes Marvel's newest star in this battle, but he doesn't pull off the most incredible feats - a big moment from the hero you might least expect to deliver it.
7. There's room for foxhole humor
Civil War
is an emotional tale that takes a toll on its heroes. Yet Marvel always manages to offer deft one-liners. And one surprise here is the comic chemistry between the Falcon (Anthony Mackie) and Bucky/Winter Soldier (Sebastian Stan). That only enhances the expected funny moments from Downey Jr.'s Iron Man and Paul Rudd's Ant-Man.
8. Civil War sets a superhero-movie standard
"Is it as good as
The Dark Knight
?" "Is it better than
The Avengers
?" Those questions as standard-bearing comparison points can now be replaced by: "Is it as good as
Civil War
?"
This
Captain America
is the new pinnacle of
comic-book moviemaking
.
©2016, The Washington Post