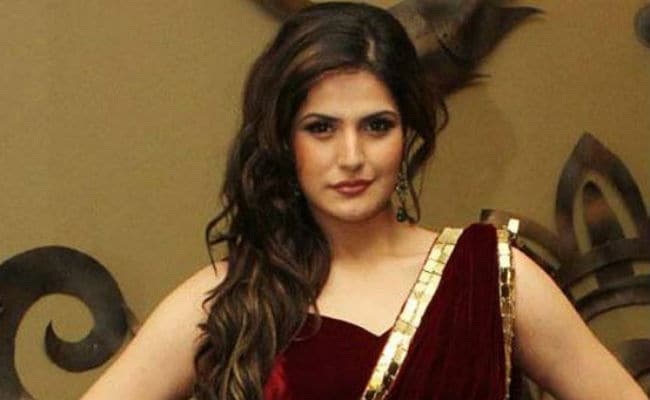 Highlights
Zareen Khan will star in 1921
"I couldn't cash in on Housefull 2 completely," says Zareen Khan
She made her Bollywood debut with Salman Khan's Veer
New Delhi:
Actress Zareen Khan, who is all set to feature in
1921
, says that she prefers to do deeper roles in small movies rather than being a prop in a big budget films with lots of actors. In an interview with news agency PTI, Zareen Khan said, "Rather than being a prop in a film with big actors, I would love to do a meatier and more meaningful role in a film that does not feature a big actor. Though I do not judge an actor or a film on these levels." Zareen Khan made her Bollywood debut with
Veer
, co-starring Salman Khan and then she also featured in films
like Housefull 2, Hate Story 3, and Aksar 2.
Zareen also said that the big projects that she did in the beginning of her career did not benefit her much."
Housefull 2
was a big film but it was a multi-starrer (
Housefull 2
starred Akshay Kumar, Asin, Rishi Kapoor and others) and I was one of the four girls, so I couldn't cash in on it completely. In
Ready
it was just a song (
Character Dheela
).
Veer
was a dream debut, unfortunately the film did not do well," PTI quoted Zareen Khan as saying.
Earlier, when Zareen Khan starred in
Veer
, a lot of reports said that she resembles Katrina Kaif. Of this Zareen told PTI: "I received flak for looking like somebody else and the weight and all. Somehow, it did not work for me."
Zareen's next release is Vikram Bhatt's 1921
, which hits the screens tomorrow. Zareen said, "When Vikram makes a horror film, he has logic and reasoning to it. He doesn't do things for the heck of it."
1921
is the fourth film in the
1920
series of films. The film also stars Karan Kundra in the lead role.
(With PTI inputs)