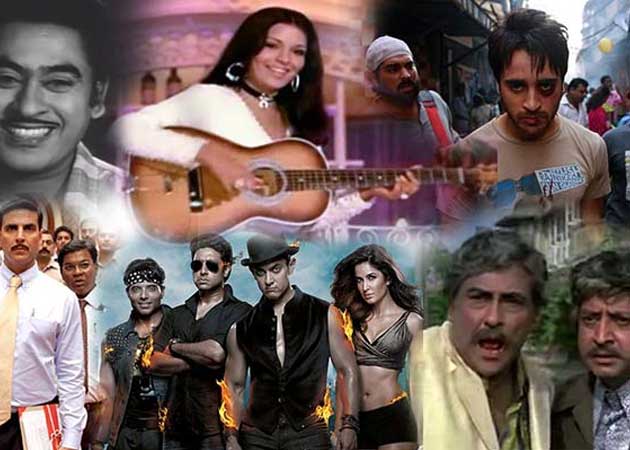 New Delhi:
Diamonds are forever (as are any jewels, really), which is why they have been endlessly pursued by Bollywood scriptwriters over the decades. Jewel robberies have formed the crux of many a filmy plotline and leading actors of Bollywood have escaped with a haul of precious loot. Happy New Year is the latest of these plunder stories. Here are some screen jewel thieves we'll never forget:

Jewel Thief
Everywhere Dev Anand goes, he's mistaken for a notorious jewel thief named Prince. Prince's men even decamp with a ring taken off the finger of the hero's love interest, played by Vyjayanthimala. But who really is the Jewel Thief and does he even exist?

Sachaa Jhutha
A 1970s box-office blockbuster starring Rajesh Khanna in a double role, as the naive Bhola and cunning diamond thief Ranjith, introduced an invention that mankind is still yet to see - a drug that leaves the consumer statue-like for a few seconds. When Inspector Pradhan (Vinod Khanna) is rendered motionless by the drug, Bhola emerges as a hero and saves the diamonds. Full points to both the Rajesh Khannas for pretending to believe there could be such a drug.

The Burning Train
A celeb-packed (Dharmendra, Jeetendra, Vinod Khanna, Hema Malini, Asrani, Parveen Babi, Danny Dengzongpa, Simi Garewal, Vinod Mehra, Nazir Hussain, Mukri, Ranjeet, Neetu Singh, Kushboo. *Breathe*) tain from Delhi to Mumbai is carrying a smuggler (Ranjeet) fleeing with stolen diamonds. When the train catches fire, he tries to escape to another train, but falls off.

Yaadon Ki Baaraat
Dharmendra - playing Shankar, a reluctant criminal and the eldest of three brothers lost to each other - steals a diamond necklace from a Maharajah's wife (as she's wearing it!) and escapes with other would-be thieves hot on his trail. He hides in the home of a young woman who turns out to be the daughter of the man who helped Shankar and his brothers flee as their parents were killed by the villainous Shakaal.

Half Ticket
In this 1962 classic, Vijay (Kishore Kumar) disguised as Munnah is used by a smuggler (Pran) to ferry diamonds without the his knowing it. The film is based on Hollywood's 'You're Never Too Young'.

Delhi Belly
A package from a doctor's office has thirty diamonds hidden inside. it is found by Tashi (Imran Khan), Nitin Berry (Kunaal Roy Kapur) and Arup (Vir Das). They sell it to a jeweller, but unfortunately are forced by a baddie to retrieve the diamonds. The jeweller asks for a huge sum of money in exchange, which the trio knows they won't be able to furnish so, they use the ever-so-popular burqa theft plan.

The Dhooms
Superfast bikes, well-researched targets and clap-worthy stunts. The Dhoom films blur the lines of distinction between heroes and villains, with Bollywood hunks John Abraham, Hrithik Roshan and Aamir Khan in hot pursuit of valuable ice.

Hum Kisise Kum Naheen
The heir (Rishi Kapoor) of a rich business man, who converts his land in Africa into diamonds, is unaware of that his inheritance is hidden in a bicycle toolbox. While Saudagar Singh (Amjad Khan) is leaving no stone unturned to get hold of the diamonds.


Shalimar
A ruby (Shalimar) worth Rs 135 crores is stored in a bulletproof glass in a high-security chamber of a palace and is surrounded by a minefield, but many - including Dharmendra and Zeenat Aman - are eyeing it.

Shaan
A gorgeous thief named Sunita (Parveen Babi) serenades guests at a party (remember the song 'Pyaar Karne Wale Pyaar Karte Hai') along with her future partners Vijay (Amitabh Bachchan), Ravi (Shashi Kapoor) and Renu (Bindiya Goswami). All of this in order to steal Bindu's stunning necklace. The man who we can't help but mention here is the sadist villain Shakaal (Kulbhushan Kharbanda, not the same Shakaal as from Yaadon Ki Baaraat) - who owns a fancy island near Mumbai with crocodiles for pets and a fancy revolving office.

Kaalia
Kaalia (Amitabh Bachchan) and his team steal the loot that the boss (Amjad Khan) had been smuggling at the mill. A revenge well-planned and delivered.

Heera Panna
An obnoxiously expensive diamond is stolen by the beautiful Panna (Zeenat Aman) and is hidden in Heera's (Dev Ananad) car.

Victoria No 203
A respectable businessman who is actually a smuggler steals diamonds, only to have them stolen from him. Everyone in the film - starring Navin Nischol and Saira Banu, among others - is on the trail of the diamonds. What happens next is best termed chaos.


Special 26
A jewellery store is robbed with a little help from the police, CBI aspirants who are fooled into believing they are preventing a theft and the jeweller. Oh no, is right. Akshay Kumar starred.

Happy New Year
Shah Rukh Khan, aka Charlie, leads a gang of 'losers' in a diamond heist in Dubai under the guise of entering a dance competition. Deepika Padukone, Abhishek Bachchan,Boman Irani, Sonu Sood and Vivaan Shah co-star.