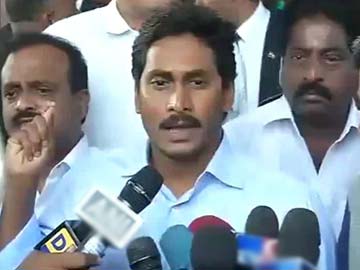 Kadapa, Andhra Pradesh:
YSR Congress president YS Jagan Mohan Reddy owns assets of more than Rs 343 crore but does not own a vehicle.
Jagan today filed his nomination for Pulivendula assembly seat in Kadapa district of Andhra Pradesh.
According to his affidavit filed along with the nomination, Jagan owns movable assets of Rs 313 crore and immovable assets of more than Rs 30 crore.
His wife Bharati owns over Rs 57 crore of movable assets and more than Rs 14 crore of immovable assets.
Jagan's income tax return for 2012-13 shows his income for the fiscal at about Rs 2.63 crore while his wife's taxable income was more than Rs 4.21 crore. However, he does not own a motor vehicle.
The affidavit also mentions the criminal cases filed against him, including the ten cases pending before the special CBI court in Hyderabad.