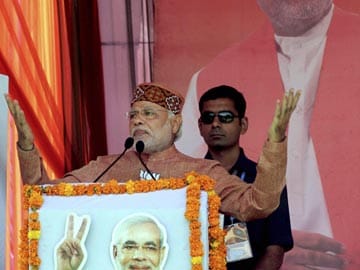 New Delhi:
In the midst of a huge controversy after he referred to Kargil martyr Vikram Batra at a rally,
Narendra Modi
this evening said, "I have immense respect for Kargil martyr Vikram Batra and his parents. I will quit politics rather than allow dignity of martyrs be hurt."
Mr Modi, BJP's prime ministerial candidate, said at an election meeting in Palampur this morning that "I want your best wishes. I want to serve you. You've given them (Congress) 60 years. Can't you give me 60 months?" and quoted the line Captain Batra famously said to NDTV at the frontline before he was killed in 1999 in the Kargil war. "
Yeh Dil maange more
," Mr Modi said, repeating the words that are forever associated with Captain Batra's tribute to the bravery if the Indian soldier.
Captain Batra's mother, Kamal Kant Batra, is running for Parliament as a candidate of Aam Aadmi Party (AAP). She said that if Mr Modi truly cares for the families of solid word, he should withdraw the BJP candidate running against her. (
Open letter to Modi from Captain Vikram Batra's mother
)
Captain Batra's father said, "The BJP must not drag his name into politics."
But despite Mr Modi's attempts to minimise the sense of hurt his statements may have caused, the BJP refused to withdraw its candidate in Hamirpur. Mrs Batra's BJP opponent is prominent MP Anurag Thakur, a former chief minister's son.
Hamirpur constituency is known for its large concentration of ex-servicemen and serving soldiers.
Captain Batra immortalised the words "Yeh dil maange more," the catch-line from an ad campaign, in an interview to NDTV before he died fighting the 1999 Kargil war. He was 24.
He was posthumously awarded the Param Vir Chakra, India's highest war-time gallantry award.
"Where will more Vikram Batras come from?" Mr Modi asked in the Palampur rally, accusing the Congress of betraying India's soldiers.
At another rally he said, "Vikram Batra died for the country - he had said - yeh dil maange more. I say it too. I want all four seats in Himachal. I want 300 lotuses across India."