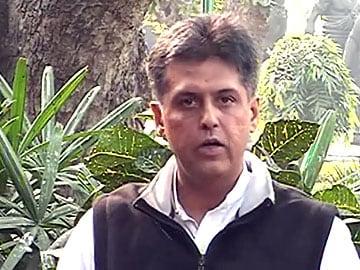 New Delhi:
In the middle of a vituperative campaign for the national election, an unconditional apology has gone from union minister Manish Tewari to BJP's Nitin Gadkari, though under threat of a lawsuit.
Mr Tewari has apologized after Mr Gadkari sued him for defamation for alleging that he has a "benami" or proxy flat in the controversial Adarsh housing society in Mumbai.
"I understand that, by such statements you have to suffer huge disrepute andhave to face an uncomfortable situation within your party and society. Therefore...I tender my unconditional apology for the allegations made against you (sic)," Mr Tewari said in a letter to Mr Gadkari, who has now dropped the case.
Citing newspaper reports on the findings of a judicial commission, the letter acknowledged that Mr Gadkari "had not played any role or had no concern with the scam."
Mr Gadkari had moved court in 2010, when he was president of the BJP, accusing Mr Tewari of making "false, baseless, reckless and malicious imputations" against him.
The Congress leader had alleged that Mr Gadkari owned a flat in Adarsh and it was registered in the name of his driver and businessman Ajay Sancheti.
The Adarsh Housing Society is a 31-story building in Colaba in South Mumbai whose apartments were intended for war veterans and widows, but were allegedly grabbed by politicians, defence officers and bureaucrats.
The state's ruling Congress has denied any role in the scandal, though the judicial inquiry named former Chief Minister Ashok Chavan.