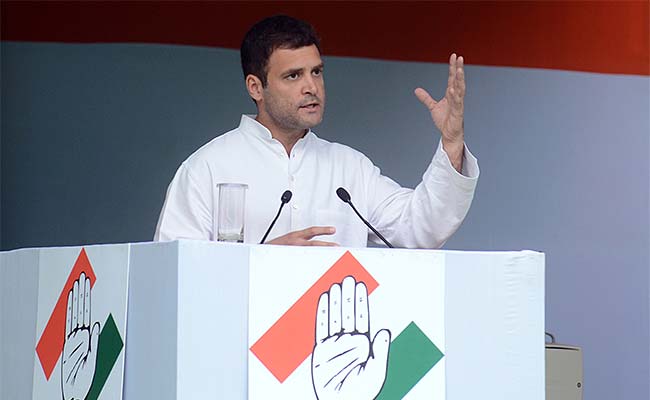 New Delhi:
Congress vice president
Rahul Gandhi
today addressed a rally at Saharanpur, clarifying on the comments made by his party's candidate from Saharanpur, Imran Masood, against BJP's prime ministerial candidate Narendra Modi.
"A few months ago, our candidate used harsh words for the opposition candidate. That's not our tradition. No matter what the Opposition says about us, we always respond respectfully, said Mr Gandhi.
"We want to engage in politics of love. We'll defeat anger with love," he added.
Mr Masood, who was filmed declaring that he will kill Mr Modi, was arrested from his residence at around 4 am today.
A criminal case was registered against him yesterday after a
video of him threatening to "chop Modi to pieces"
went viral on the Web. Apologising for his comments yesterday, he told NDTV, "I meant that I would teach him a lesson."
Condemning Mr Masood's remarks, senior party leader Digvijaya Singh had said yesterday that the comments should not go unpunished.
An FIR or First Information Report accused Mr Masood, 40, of violating the election code of conduct, but it was not clear when and where the comments were made.
The police say they received the video CD on Thursday. Mr Masood claims he spoke those words eight months ago, when he was with the Samajwadi Party.
In the CD, Mr Masood says, "I am a man of the street, ready to give my life for my people. I am neither afraid of death or of killing. He thinks this is Gujarat. There are only 4% Muslims in Gujarat. There are 42% Muslims here."
Senior BJP leader Arun Jaitley said the comments reflect a mindset that believes "abusing Modi is an expression of aggressive secularism." He also referred to Sonia Gandhi's "Maut Ka Saudagar (merchant of death)" barb in 2007 against Mr Modi.
Narendra Modi
, 64, is contesting his first parliamentary election from Varanasi, 800 km away in India's largest and most politically vital state. In his speech, Mr Masood warns the BJP leader against "turning Uttar Pradesh into Gujarat."