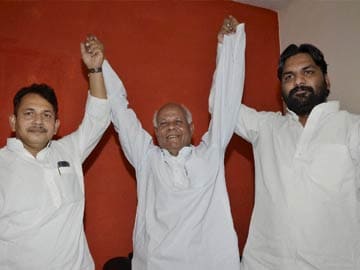 Patna:
Three rebel RJD MLAs today resigned from the Bihar Assembly to extend their support to Nitish Kumar after his resignation as Bihar chief minister.
Samrat Chaudhary, Ram Lakhan Ram Raman and Javed Iqbal submitted their resignation letters to Speaker Udai Narayan Choudhary.
"When Nitish Kumar left such a big post of Chief Minister can't we make a small sacrifice like resigning from Assembly," Samrat Chaudhary told reporters at his residence.
He said they would join JD(U) to strengthen hands of Kumar.
Chaudhary, Raman and Iqbal were prominent among 13 RJD MLAs who had earlier proposed to the Speaker to recognise them as a separate group.
But, later 9 out of the 13 had returned to RJD.
After vehement protest staged by RJD chief Lalu Prasad and his party, the Speaker had said he would take an appropriate decision on the issue later.
Chaudhary, son of senior JD(U) leader Shakuni Chaudhary who had quit RJD earlier, said they had been working with Kumar after quitting RJD in February this year.
While Chaudhary is an MLA from Parbatta in Khagaria district, Raman represents Rajnagar (SC) seat in Madhubani district and Javed Iqbal is an MLA from Banka.
Resignation of the three RJD MLAs has left the party strength in the 243-member Bihar Assembly to 21.