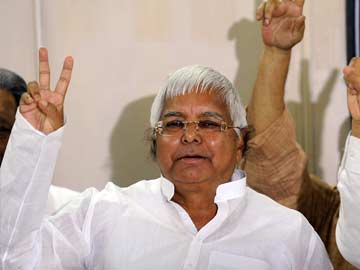 Patna:
On April 21, speaking to NDTV, Rashtriya Janata Dal (RJD) chief
Lalu Prasad Yadav
had boasted: "In all the 40 seats in Bihar, there seems to be a wave in our favour. I had not expected this. As the phases are progressing, the people's enthusiasm seems to be increasing." (
RJD bouncing back in Bihar, but Lalu Prasad remains grounded
)
Voting for seven Lok Sabha seats took place in Bihar on Wednesday. More than half of the state has voted, and Mr Yadav's RJD, which has forged a partnership with the Congress, is back in the reckoning, threatening to upset the electoral calculations of Nitish Kumar's Janata Dal (United) and the BJP, which were allies till about a year back. (
Elections: full coverage
)
In the 2009 general election, the JD (U)-BJP combine had swept all the seven constituencies which voted today, with Mr Kumar's party cornering five. The JD(U) faces a wipe-out, and the BJP's hopes of filling up the ground being ceded by its erstwhile ally have gone awry in the face of a resurgent RJD-Congress combine. (
Lalu Prasad does it again; calls Narendra Modi 'executioner'
)
The seven constituencies facing polls in the seventh phase have a strong concentration of Muslims and Yadavs, the two communities which have rallied behind the RJD. In Madhepura, where Yadavs constitute a whopping 29 per cent of the electorate, JD(U) president Sharad Yadav faces the dreadful prospect of finishing third in a triangular race. The RJD's Pappu Yadav and Vijay Kumar Kushwaha of the BJP have emerged as the main contestants.
The Muslim-Yadav (MY) combine is also working well in Madhubani and Darbhanga, two seats which the BJP had won in 2009. (
Lalu Prasad confident of his party's victory, says 'no Modi wave in Bihar'
)
The BJP, which is banking on the Modi wave to see a surge in its tally in Bihar, is pinning its hopes on a non-MY consolidation. It has stitched alliances with Ram Vilas Paswan's Lok Janshakti Party and Upendra Kushwaha's Rashtriya Lok Samata Party. The two outfits have strong pockets of influence among the Dalits and the Koeris, a numerically significant OBC.
The BJP had won 12 seats in 2009, and the RJD four. The Congress could win only two, while the JD(U) had walked away with half of the 40 seats.