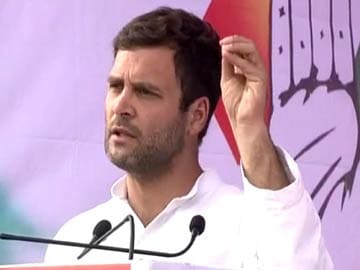 Amethi:
Rahul Gandhi's immovable assets have shown a decline since 2009 but the value of total assets has doubled to Rs 9.4 crore in the last five years.
In the affidavit filed by him along with his nomination papers today in Amethi, he has disclosed that the total value of his real estate assets (including the advance of Rs 6.8 crore paid on property) has increased from Rs 4.4 crore in 2009 to Rs 8.2 crore now, an increase of about 86 per cent.
The doubling of the total value of the assets from Rs 4.7 crore to Rs 9.4 crore has been primarily due to appreciation in property prices. The number of real estate assets owned by Mr Gandhi has declined since 2009 as he has sold the two shops he owned in a mall and exited another agricultural property in Haryana. He continues to own a share in the inherited farm in Sultanpur Village in Delhi.
The proceeds from the sale of the two shops have been used to make part payment on two office spaces. The affidavit shows that Mr Gandhi does not own a car and as an SPG protectee he is required to travel in an SPG vehicle for security reasons.
Compared to many leaders across party lines, his assets are modest and they have shown a modest increase in the last year years, according to sources close to the leader.
Get Breaking news, live coverage, and Latest News from India and around the world on NDTV.com. Catch all the Live TV action on NDTV 24x7 and NDTV India. Like us on Facebook or follow us on Twitter and Instagram for latest news and live news updates.