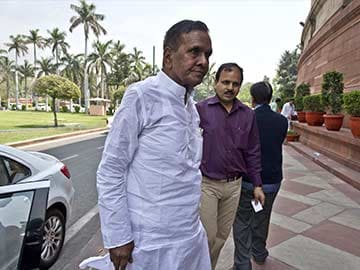 New Delhi:
Beni Prasad Verma, a senior union minister, has been told that he could be banned from campaigning if he does not curb his language about
Narendra Modi
, the BJP's prime ministerial candidate.
The Election Commission has put Mr Verma of the Congress on notice days after he referred to Mr Modi, 64, as a criminal who has been absconding since the age of 20.
(Beni Prasad Verma calls Narendra Modi a murderer)
Mr Verma has been spewing invective against the BJP leader at election rallies.
In recent weeks, the powerful Election Commission had banned a series of top leaders from holding rallies and meetings on account of hate remarks and speeches. Azam Khan of the Samajwadi Party is still not allowed to campaign in his home state of Uttar Pradesh; a similar order has been levied upon the BJP's Giriraj Singh for Bihar and Jharkhand; yoga guru Ramdev has been told he cannot campaign for the BJP in Himachal Pradesh and Lucknow in Uttar Pradesh.
(Read more...)
Amit Shah, a top aide of Mr Modi in charge of running the BJP campaign in Uttar Pradesh was allowed to return to campaigning two weeks ago after he apologized to the Election Commission for a speech that was allegedly designed to provoke communal tension.
(Ban on Amit Shah lifted, Azam Khan refuses to apologise)
In recent weeks, the election campaign has been over-shadowed with personal and bitter attacks and an attempt by leaders from different parties to court votes on the basis of religion.
There are two days of voting left in the mammoth general election. Results will be declared on May 16.
(Elections: full coverage)