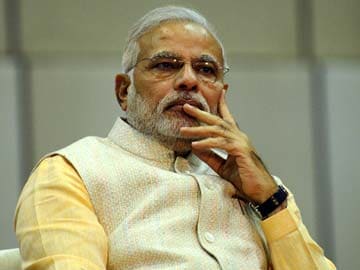 New Delhi:
Narendra Modi's new cabinet will be one of the smallest ever, with 44 ministers, and those who have been left out are also making news.
Murli Manohar Joshi, who was a key minister in the last BJP government, has not made it to the list, reportedly because of Mr Modi's "below 75 years" rule.
Mr Joshi, 80, was the Human Resource Development Minister in the Atal Bihari Vajpayee government. Till Sunday, his name was being discussed among the probables for the new cabinet.
That the veteran leader would not be a minister was confirmed when he was not among the visitors at Mr Modi's tea party at Gujarat Bhawan this morning. Mr Modi had invited only ministers to be.
"It is the PM's prerogative to decide his cabinet," said sources close to Mr Joshi.
The 75-year cut-off leaves many former ministers out, including LK Advani, who was Home Minister and Deputy Prime Minister during the Vajpayee regime, Shanta Kumar and BC Khanduri.
Arun Shourie's exclusion was also a surprise for many. He was earlier tipped for an economic portfolio, but now, he is reportedly being considered for the role of an adviser to the government.
"Nothing was offered to me," Mr Shourie said.
Another person reportedly left out is Subramanian Swamy, whose name was doing the rounds till weekend. Some speculation had suggested that the 74-year-old economist could be considered for the Finance portfolio.
Mr Swamy tweeted today, "My not becoming a Minister is PM's prerogative for whatever reason."
Former aviation minister Rajiv Pratap Rudy was also a surprise omission though he was considered a strong contender for minister.
"My best wishes to the newly elected Prime Minister @narendramodi and his cabinet. I shall continue to look after the party work," Mr Rudy tweeted after Mr Modi's tea.
Anurag Thakur, the son of former Himachal Pradesh Chief Minister Prem Kumar Dhumal, also didn't make it despite the buzz. Sources said Mr Modi's rule against sons or daughters of politicians in the cabinet disqualified Mr Thakur, even though he has been a notable BJP voice on financial matters.