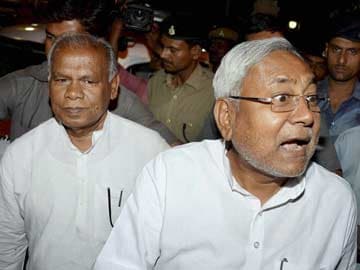 Nitish Kumar, who quit as Bihar's Chief Minister after his Janata Dal United lost the national election, has chosen his close aide Jitan Ram Manjhi as his successor.
Mr Manjhi, a minister in the state government, belongs to one of the most underprivileged castes in the state. Though he was among the JD (U) candidates who were defeated in the polls, party sources say his elevation to the top post is an attempt to consolidate lower caste votes ahead of assembly elections due next year.
Mr Kumar, 63, resigned on Saturday taking moral responsibility for the party's disastrous performance in the state. The JD (U) won just two of Bihar's 40 seats in the polls that have seen a massive mandate for its former ally BJP, with which it parted ways last year over Narendra Modi's elevation. (
Nitish Kumar Resigns a Day After Poll Defeat
)
To party legislators who insisted that he should take his resignation back, Mr Kumar today said the decision took a lot of courage.
"For whatever reasons, the mandate was not in my favour," he told party men.
The JD (U) then asked him to choose another leader, which was seen as a strategy to neutralize party chief Sharad Yadav, who wanted his own candidate.
"Nitish Kumar may not remain Chief Minister but the party will work under his direction," said party leader Vashisht Narayan Singh.(
Also Read: In Nitish's Resignation, Another Twist in the Tale?
)
This morning, Mr Yadav responded to party legislators' demands saying Mr Kumar's decision to resign "is in the nation's favour, the party's favour and Nitish Kumar's favour. It is a tough decision but final and right."
Sources say Nitish Kumar has told party legislators not to "heckle" Mr Yadav, but at the same time ensured that his confidante will take the reins.
Mr Manjhi, 68, a veteran politician who has earlier been in the Congress and Lalu Prasad's Rashtriya Janata Dal, is not known for his administrative skills but is described by critics as a fit candidate for "proxy Chief Minister."
"After the rout, Nitish Kumar has chosen a good escape route and foisted a dummy chief minister, like the Congress did by appointing Manmohan Singh to run the government through remote control," said the BJP's Sushil Kumar Modi, Mr Kumar's former deputy in the government. (
Nitish Kumar is Fond of Resigning: Sushil Kumar Modi
)