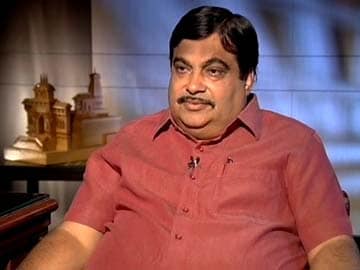 New Delhi:
Nitin Gadkari's resignation from the BJP president's post in January, 2013 was as dramatic as his elevation to the top job in the party a little over three years ago. His appointment as the president of the BJP took most political observers by surprise. After all, he had, till then confined his political activities to Maharashtra, his home state, and was little known in the Capital's power circles. The RSS sponsored his ascent, more as a snub to Dilli 4, a pejorative description of a group of senior Delhi-based leaders (Sushma Swaraj, Arun Jaitley, Venkaiah Naidu and Ananth Kumar) who were believed to be de-facto controlling party-affairs.
Mr Gadkari, 53, was close to clinching a second innings as BJP chief when revelations about dodgy investments made by him in the Purti group of companies torpedoed his plans. Leaders such as LK Advani, Yashwant Sinha and Mahesh Jethmalani used the damaging disclosures to force the Nagpur establishment to drop its plans to give Mr Gadkari a second term as party president. He was replaced by Rajnath Singh.
Unperturbed by the setback, Mr Gadkari has been plotting his rehabilitation, leveraging his clout with the Rashtriya Swayamsevak Sangh (RSS) to good effect. A leader who has friends in almost all Maharashtra-based parties, or their branches, he courted controversy recently by meeting Maharashtra Navnirman Sena, or MNS, chief Raj Thackeray to persuade him not to put any roadblocks in the BJP's attempts to win more seats in the state in partnership with Uddhav Thackeray's Shiv Sena. The Thackerays share a very hostile relationship, and Uddhav blamed Mr Gadkari for putting the BJP-Shiv Sena alliance under strain.
Mr Gadkari, however, is unrepentant. He is these days busy campaigning in Nagpur, the city of his birth, to secure his debut in the Lok Sabha. Interestingly, he has never contested any election, either to the state assembly, or to the Lok Sabha, before. He has been an MLC in Maharashtra since 1989, and has spent most of his time so far in Nagpur.
He was born in a Brahmin family in the city, which also houses the headquarters of the RSS, on May 27, 1961. He won his spurs as a political activist by first joining the Akhil Bharatiya Vidyarthi Parishad, or the ABVP, the student's wing of the RSS, and later, the Bharatiya Janata Yuva Morcha, the BJP's youth wing.
But it was his stint as Maharshtra's PWD minister between 1995-99 which forced the BJP's central leadership to take a close look at him. Using the public private partnership (PPP) model as the benchmark, he was instrumental in facilitating the construction of the Mumbai-Pune expressway. His website proudly claims credit for the construction of 66 flyovers and bridges in Mumbai.
Mr Gadkari has over the years built a strong business empire, with interests in sugar, power, more specifically, renewable energy. By his own admission, he employs some five lakh people, in and around Nagpur. He would be hoping his investments in the district help him defeat former union minister Vilas Muttemwar, a Congress leader who has won the seat seven times.
Mr Gadkari shares a very uneasy relationship with Narendra Modi. It was the BJP's prime ministerial candidate who forced him to ease out Sanjay Joshi from the party's national executive during his tenure as president. If Mr Modi does become the country's prime minister, it will be interesting to see whether Mr Gadkari is accommodated in his team.