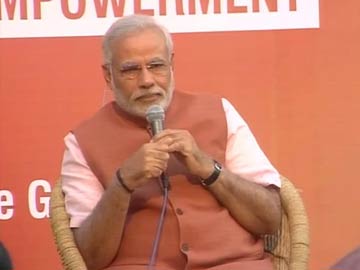 New Delhi:
BJP prime ministerial candidate Narendra Modi today answered queries on women empowerment by people across the country and abroad through the party's 'Chai Pe Charcha with NaMo' programme on the occasion of International Women's Day. Mr Modi interacted with the public at 1,500 locations through Internet from the party's headquarters in Delhi.
Here are the highlights:
I am seeing so many men in front of me. At least today I would have hoped to see more women.
Women are playing an important role in nation-building, we can't deny that.
At the root of all problems is how boys and girls are looked at differently even within the family.
We need to change the outlook in the society.
Women should be free to choose, whether it is about their career, education, marriage or having a family.
Discrimination against women is the root of all troubles.
Mahatma Gandhi said when a woman is educated, two families are educated. I will add...not just two families but two generations are educated.
I found that many schools did not have toilets and so girls dropped out. I have run a campaign in Gujarat to improve this.
Not just primary education and literacy, if we focus on other areas like offering incentives for women in research, we may get good results.
Women are in the teaching profession in great numbers. This is a good sign.
Every problem has a solution, you need resolve and intent.
The Centre has set up Rs 1000 crore Nirbhaya Fund. From what I know...not a single penny has been spent.
There are laws for everything but that is not enough. We need speedy justice to create fear in those who commit crime against women.
If India has to increase its GDP, we have to increase the participation of women in our economy.
I believe women are quicker than men to adapt to new technology.
Economic freedom plays a very important role in empowering women.
We need to work on improving the image of the police in India.
We need to recruit women in police forces in greater numbers.
Women are good at repaying loans, we must ensure flow of finances to women's self-help groups and cottage industries.
Gujarat is the only state to have cataract operations for animals and that is done via public-private partnership.
Get Breaking news, live coverage, and Latest News from India and around the world on NDTV.com. Catch all the Live TV action on NDTV 24x7 and NDTV India. Like us on Facebook or follow us on Twitter and Instagram for latest news and live news updates.