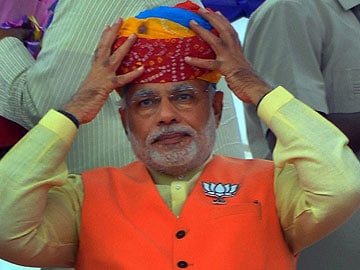 Jhajjar (Haryana):
Narendra Modi today launched a blistering attack on the Gandhi family by raking up the alleged land deals involving Robert Vadra in Haryana.
Addressing a rally attended by large number of farmers, the BJP Prime Ministerial candidate slammed the Congress government in the state as well as at Centre for taking the farming community for a ride and "usurping" their land and selling it off at "dirt-cheap" prices. (
Full Coverage: Elections
)
"If in Haryana, it is the father-son duo who are doing the business, in Delhi, it is the mother-son duo. As if it was not enough, so the son-in-law (damadjee) has also entered the scene," Mr Modi said.
"The farmers are scared that the Government is going to take away their land and sell off their lands at dirt-cheap prices to the agents. Farmers have to sell their land at throw away prices due to deeds of your jeejaji (brother-in-law)," he said.
Mr Modi said due to the land policies of the Haryana government, "A person without even single paisa could earn Rs 50 crore in next three months. Shehzaade (Rahul Gandhi), what are these policies through which you have given land to your jeejaji."
Mocking the Gandhi family over the land deal issue, Mr Modi asked if there was anyone in the rally who could earn Rs 50 crore in three months without investing a single paise.
"Is anyone among you a magician who knows such a trick. This trick is known only to Shezaade's family," he said.
Making a direct attack on Rahul Gandhi over his recent pitch against politics of anger and decorum of speech, Mr Modi said, "Congress is finished. Shehzaade says we do not do the politics of anger. I want to say that gone are the days when they could do this as it is the time of politics of anger by the people of this country."
"They have done the politics of anger for 60 years.
"Misused CBI to target their opponents and now their days of doing politics of anger are over. This time the anger of people is so much that the anger of nobody else will work," he said.
Continuing the attack on Mr Gandhi, Mr Modi said, "You teach us the language of decency and decorum. It was you who humiliated the Prime Minister of the country when he was away in the US and tore away a Cabinet decision in front of journalists just for self glorification."
"You humiliated your own party's Prime Minister and did not keep the dignity of the post and now you are giving sermons to us," he said.
Seeking to project himself as the representative of the common man, Mr Modi once again referred to his humble origins comparing it with that of Mr Gandhi's lineage.
"He (Rahul Gandhi) was born with a golden spoon whereas I grew up selling tea on railway platforms. He has a well-known lineage whereas I am honest," he said.
He asked the people to vote for a "servant" for the first time in independent India and asked for 60 months to run the country as the nation needs a strong and stable government.
The BJP leader evoked the name of Arya Samaj founder Swami Dayanand Saraswati to strike a chord with masses in Haryana where the Hindu social reformer had worked for a long time.
"I belong to the land where Swami Dayanand Saraswati was born and I have come on the land where the name of Swamiji creates energy. I have very deep relations with you," he said.