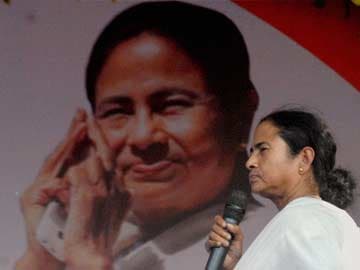 One of India's most capricious politicians, Mamata Banerjee, could be key to the country's future government.
The 59-year-old is predicted to win enough seats to count in a scenario where no political party wins a clear majority.
In the past two years, the West Bengal chief minister has been in the news more for controversial moves like ascribing political motives to a spate of rape cases; the arrest of a protesting scientist or a college professor who shared a cartoon that made fun of her; for enforcing a read list in public libraries in her state; for attempting to reduce emphasis on Marx and Engels in history books.
Ahead of voting in Bengal for the national election, she has escalated a confrontation with the Election Commission over its order to transfer officials accused of bias, calling it an "insult" to her state.
At a national level, she is seen as the chief architect of reform policy rollbacks, using her political clout to arm-twist the government she partners. When the muscle-flexing finally did not work, she pulled out of the UPA government.
Her aggressive ways had critics shouting "Didigiri".
But Mamata Banerjee is dismissive of the criticism; she has scored her governance a perfect 100 and insists that the media appears to paint a negative picture of her government's performance.
In 2011, Mamata Banerjee stormed the Left citadel that was Bengal, ridding the state of the 34-year-long Communist rule. She had been building up to that moment from the very start of her political career, when senior Congressmen from the state recall a zealous, young party worker working through the night to paste anti-Left posters; in the morning CPM workers would remove them. When night fell again, she would be back pasting posters, undeterred.
Mamata Banerjee's stated raison d'etre has always been the decimation of the Left in West Bengal. So acute is the hatred that a Trinamool minister asked party workers that their daughters should not marry into CPM homes.
Born on 5 January 1955 in Calcutta, Mamata Banerjee grew up in a lower middle-class family and is said to have been drawn to politics while still in school. She was very young when she joined the Congress in the '70s.
A history graduate from Jogamaya Devi College, Ms Banerjee got a Master's in Islamic History from the University of Calcutta followed by a degree in education from Shri Shikshayatan College. She earned her stripes as a lawyer with a degree from Jogesh Chandra Chaudhuri Law College. Ms Banerjee draws and likes to write poetry. She is the published author of 'Poribortan' (Change), 'Kobita' (Poems) and 'My Unforgettable Memories'.
Personally, she lives a simple life, with few obvious vanities - she has forever been seen clad in an inexpensive cotton sari and rubber slippers. But hell hath no fury as Didi if anything or anyone presumes to scorn her.
From the unknown worker pasting anti-CPM posters to General Secretary of the Congress' youth wing, Ms Banerjee had a meteoric rise in the Congress. She first contested elections in 1984.
In 1997, she parted ways with the Congress to float her Trinamool Congress. Here, Didi was all-powerful. It still took an arduous 14 years to get where she wanted - the CM's office in Kolkata's Writers' Building. On the way there, she partnered both BJP and Congress led governments at the Centre, treating both to her famed temper tantrums, threats to walk out and even breaking political partnerships with much elan.