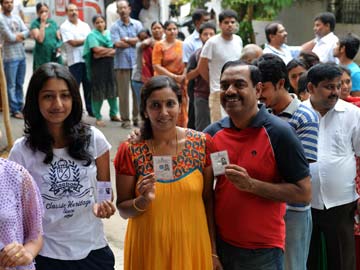 Bangalore:
Prominent citizens of Bangalore are sorely disappointed at what they call the low voter turnout in the city in the general elections held on Thursday. The three seats in Bangalore city recorded a 54 per cent voter turnout. In 2009, the turnout was 58.81 per cent.
Entrepreneur Kiran Mazumdar Shaw, who heads a political action group of citizens in Bangalore, told NDTV that the city should have recorded a turnout of over 60 per cent and said the people who did not vote had no right to complain about governance issues.
"They are not citizens, just inhabitants of the city," said Ms Shaw, admitting she is upset. (
Watch: Is there apathy among voters in Bangalore?
)
Former Infosys man, Mohandas Pai, who is also part of the group, concurred, observing that about two to three lakh voters from Bangalore might well have made their way to tourist destination Coorg to take advantage of a long stretch of holidays in the city. Coorg, Mr Pai observed, was booked out. (
Elections: full coverage
)
All three contests in Bangalore city generated much interest. In Bangalore South, Nandan Nilekani, Infosys co-founder and former head of the Aadhar unique identity scheme, took on old BJP warhorse Ananth Kumar, who has won the seat five times in a row. (
Read: In Karnataka, big guns battle it out
)
In Bangalore Central, another ex-Infosys man V Balakrishnan of the Aam Aadmi Party took on the Congress and BJP candidates.
And in Bangalore North, former BJP chief minister, Sadananda Gowda, did battle against Congress candidate, C Narayanaswamy, who got the ticket after one of Rahul Gandhi's experimental primaries was held here.
Captain Gopinath of the Aam Aadmi Party said, "The worst politician, even scam-tainted ones, are better than indifferent voters. Voters in Bangalore should hang their head in shame."
Some voters who did turn up to vote, complained that their names did not figure on the voting lists despite having voted in previous elections. "For those of us who have voted before and still did not find our names in the voters list it was so dismal. I wonder how many of us faced the same and who is to blame?" said Bangalore south voter Mekhola Haldar in a facebook post.