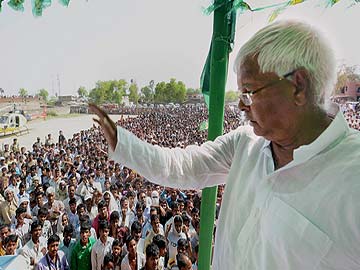 Patna:
In an attempt to woo its traditional vote bank including the minority community and people belonging to backward and most backward castes, Rashtriya Janata Dal (RJD) today went all out in its Lok Sabha poll manifesto promising a plethora of initiatives for them.
The manifesto promises ending the contractual system of employment in the state and regularising teachers, anganbari sevikas, assistants, computer operators, drivers, engineers, doctors, home guards and others working on contract. (
Full Coverage: India Votes 2014
)
Foremost among its poll promises, RJD said it will provide reservation to the minority community in jobs and educational opportunities in government and semi-government institutions.
Releasing the party manifesto, RJD president Lalu Prasad said, "apart from reservation to the minority community in jobs and education, we will also bring changes into Article 341 to ensure scheduled caste status to Dalit Muslims and Dalit Christians."
The RJD manifesto also promises to implement the suggestions of Sachar Committee and Ranganath Mishra Committee for the minorities. Urdu teachers will be compulsorily appointed in private schools, and an anti-riot force with proper representation of minorities in it would be formed.
"The cases of Muslim youths who are languishing in jail for a long time in the name of terrorism will be reviewed and efforts will be made to provide justice to them," Mr Prasad said.
The RJD said they will provide reservation to people belonging to Extremely Backward Castes (EBC) in private sector and judicial services.
The party promised to initiate sincere efforts to provide to SC and ST status to 14 castes in EBC category. These include boatmen, barbers, carpenters, potters, gardeners, ironsmiths and Chandravanshis.
The RJD manifesto also talked about creating 'scheduled castes and scheduled tribes authority' in the state for their development.
"The RJD supports reservation to women. We believe in extending it to women in different caste and communities on the basis of their proportion in the population," he said.
Trying to please contractual workers employed by the state, RJD state president Ramchandra Purvey, who read aloud from the manifesto, emphasised that the party will remove the contractual system of employment.