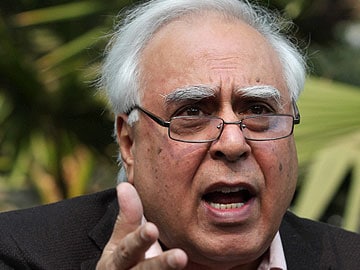 New Delhi:
Union Minister Kapil Sibal's assets has almost tripled over the last three years, increasing from Rs 38 crore in 2011 to Rs 114 crore at present.
In his nomination paper filed today from Chandni Chowk constituency, Mr Sibal along with his wife Promila has declared assets worth around Rs 114 crore, which includes their movable and immovable properties.
According to his affidavit filed in 2011, Mr Sibal had declared movable and immovable assets worth around Rs 38 crore.
Mr Sibal has shown Rs 77 lakh as income in his last year's income tax return even as his wife Promila Sibal has declared Rs 28.73 lakh income for the last financial year.
According to Mr Sibal's affidavit, his and his wife's movable assets are worth 13.38 crore, which include around over 15 crores in cash in bank deposits and 4.6 kg of gold and precious stones worth over 1 crore. The rest is invested in mutual funds, bonds and insurance policies among others.
As far as his immovable assets are concerned, Mr Sibal owns or has shares in 17 properties including residential, commercial, agricultural and non-agricultural land worth over Rs 68 crore. Moreover, he has invested Rs 4.2 crore in advance for purchase of properties.
Mrs Promila owns a house in New Friends Colony in Delhi whose market value is Rs 28 crore.
Besides that, she has also invested Rs 17 lakh in advance for the purchase of a residential plot.