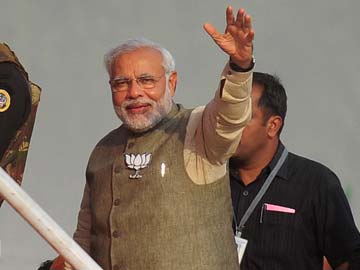 New Delhi:
For a man who confesses to a penchant to "dress well" and claims his mixing and matching of colours is "god gifted", BJP's prime ministerial candidate Narendra Modi is one of the few Indian politicians who have effortlessly managed to get discerning people's appreciation and women's attention by his sartorial elegance.
With his crisp, half-sleeved silk, khadi and linen kurtas and churidar pyjamas, coupled with finely-tailored Nehru jackets, often in bright, eye-catching colours, Mr Modi is amongst a few leaders of independent India who have shunned the shabby and crumpled kurtas and dhotis/pyjamas - the staple political costume of the traditional Indian politician - and gone out to make a style statement.
It has also drawn adverse attention as when Samajwadi Party leader Mulayam Singh Yadav, a typical old-style politician who neither cares about his dress nor deportment, took a dig at him wondering how much time Mr Modi would have for the country when he "changes 500 kurtas a day and wears a new kurta to every meeting".
"What is wrong in Modi saying that he likes to dress well? I want to see our Indian leaders dress better. For too long have our leaders worn their sloppy sartorial manners and ill-fitting dresses as badges of austerity," said Kabir Alam, a 46-year-old fashion photographer based in Delhi.
"Look at how well-dressed international leaders are and how much pride they take in their dress sense. Some of our leaders look almost comic and lacking in sartorial etiquette at formal occasions by going out of their way to defy dress codes at banquets and the like," Mr Alam told IANS.
Agreed 24-year-old Anahita Choudhary, a student of the JD Institute of Fashion, who said that Indian politicians' must dress smart as the country is an emerging superpower and its leaders must portray the country appropriately.
"Every politician wears the staple kurta with jackets but Modi is doing it with a difference. What would be interesting to see is if he becomes prime minister, how he represents India on the global stage," she added.
Admitting that she was not a fan of Mr Modi's brand of politics, Ms Choudhary said "you have to give credit where it's due" referring to the Gujarat chief minister's choice of wardrobe.
The fact that Mr Modi has stuck to Indian attire and spiced them up instead of adorning western clothes has also been appreciated.
For Abhishek Bakshi, a 34-year-old advertising professional, Mr Modi's style is chic and sauve and yet very Indian.
"You don't necessarily have to be wearing a tuxedo to look good. Mr Modi has, with his choice of clothes and colours, spiced up the Indian attire," Mr Bakshi told IANS.
"Among his contemporaries, he is the only one who experiments with different colours and his sense of colour coordination is brilliant," he added.
Mr Modi's Nehru jackets have become quite popular. "Nehru jackets are really in nowadays and be it youngsters or elders, everyone is following the trend," Ruchi Verma, 21 a student at Noida's Satyam Fashion Institute, said.
Delhi based designer Samanth Chauhan too is a fan.
"The bright coloured Nehru jackets that Modi is wearing are really making a statement," he said.
Follow NDTV for latest election news and live coverage of assembly elections 2019 in Maharashtra and Haryana.
Subscribe to our YouTube channel, like us on Facebook or follow us on Twitter and Instagram for latest news and live news updates.