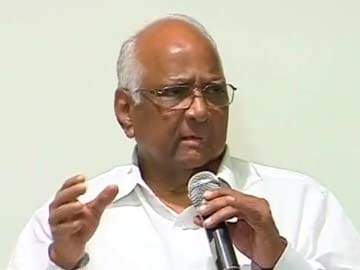 Kolhapur (Maharashtra):
As the race for Lok Sabha 2014 enters its crucial last leg, Union minister and Nationalist Congress Party (NCP) leader Sharad Pawar has said there should be no more discussion on allegations related to the 2002 Gujarat riots against the BJP's Narendra Modi, as he has been cleared by the courts.
"If courts have given their verdict, then the question of holding a debate on it does not arise. We accept the court's order and there won't be any debate on it," Mr Pawar said in Kolhapur, Maharashtra, on Sunday.
Mr Pawar had been asked to comment on his deputy Praful Patel's suggestion last week that, "if the judicial system has given a certain finality to any controversy, I think we should let it rest there."
Mr Patel was referring to Congress vice-president Rahul Gandhi's allegation earlier in the week that Mr Modi "abetted" the 2002 riots in Gujarat in which hundreds of Muslims were killed. Mr Modi has been cleared of complicity in the violence by a Supreme Court investigation.
The Gujarat riots have for years been the main front of attack used by Mr Modi's rivals in their attempt to discredit him.
The NCP statements have come amid indications that the party is not satisfied with its alliance of many years with the Congress. The two parties govern Maharashtra and are partners in the PM's coalition government at the Centre.
Last Friday, Mr Pawar refuted a newspaper report that he had held a "secret" meeting with Narendra Modi, the BJP's prime ministerial candidate. But Mr Patel made it clear that the NCP's partnership with the Congress should not be taken for granted. (
Read more
)
"The Congress has delayed seat-alliance talks with NCP in Maharashtra for far too long. We're awaiting clarity from them." said Mr Patel.
Congress sources believe the NCP is posturing ahead of bi-party negotiations for how they will divide Maharashtra's 48 parliamentary seats between them.