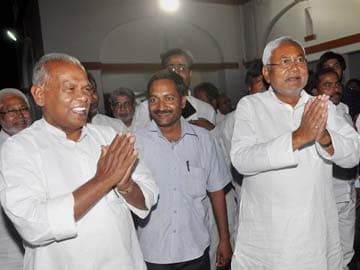 Patna:
Jitan Ram Manjhi, who took oath today as Bihar's new Chief Minister after
Nitish Kumar'
s resignation, insisted that he was "not a rubber stamp." (
Who is Jitan Ram Manjhi?
)
Mr Kumar resigned as Chief Minister on Saturday taking moral responsibility for his party's defeat in the national election. On Monday, handpicked Mr Manjhi to succeed him, a move that was immediately seized by his critics as an attempt to install a man he can easily control. (
Nitish Kumar Resigns a Day After Poll Debacle
)
Mr Manjhi, a state minister, belongs to the "Mahadalit" or one of the most underprivileged castes in the state. The 68-year-old is a veteran politician who is not known for his administrative skills but is a close, trusted aide of Nitish Kumar. (
Nitish's Pick Jitan Ram Manjhi to be Bihar's New Chief Minister
)
BJP leader Sushil Kumar Modi sneered, "Nitish Kumar has foisted a dummy chief minister and picked a good escape route." (
Nitish Kumar is Fond of Resigning: Sushil Kumar Modi
)
Mr Manjhi said today, "By saying I will be a rubber stamp the BJP has only highlighted their anti-Dalit mindset. The BJP has insulted dalits."
He told reporters that he would "continue to seek guidance from Nitish Kumar."
The JD (U) won just two of Bihar's 40 seats in the polls that have seen a massive mandate for its former ally BJP, with which it parted ways last year over Narendra Modi's elevation.
After Mr Kumar refused to take back his resignation, the JD (U) asked him to choose another leader, which was seen as a strategy to neutralize party chief Sharad Yadav, who wanted his own candidate. (
Decision to Quit Took Courage, Says Nitish Kumar
)
"Nitish Kumar may not remain Chief Minister but the party will work under his direction," said party leader Vashisht Narayan Singh.