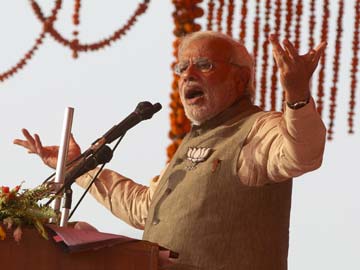 Amethi:
Narendra Modi has asked the rival Congress not to get into a bind over his future, once again comparing his modest origins as a "tea-boy" with the political dynasty of the Gandhis, whose citadel, Amethi, he stormed with a massive rally today.
In a speech where he also asserted that his party would form the next government, the BJP's prime ministerial candidate said, "People in the Congress ask where will Modi go if he loses? Don't worry, I have my kettle ready to make tea... do you need to loot people to make ends meet?" The capacity crowd in Gauriganj in Rahul Gandhi's Lok Sabha constituency roared in support.
Mr Modi has, in this protracted campaign season for the general election, neatly turned an attack earlier this year by Congress leader Mani Shankar Aiyar on its head, seeking to highlight that he sold tea on trains as a young boy as opposed to the privileged upbringing that his main political rival, 43-year-old Rahul Gandhi enjoyed.
"Is it wrong to be born poor? Is it wrong to earn an honourable livelihood by selling tea? I'm being vilified because I am not part of your world," Mr Modi said in Amethi, also adding, "Acchey din aane wale hain, ab gareeb ke bachche aane wale hain (good times are in the offing, the children of poor people will rule the country)." More applause followed from his boisterous audience.
The four-time chief minister of Gujarat shared that his 90-year-old mother rode an autorickshaw to vote last week. At another point in the speech, he called himself a sewak (servant) who had come to seek the support of the voters, and not to "loot" the country.
In February, Mr Modi had launched "chai-pe-charcha", a massive outreach programme that saw him interact with thousands of people at a time using satellite and other technology while he sipped tea.