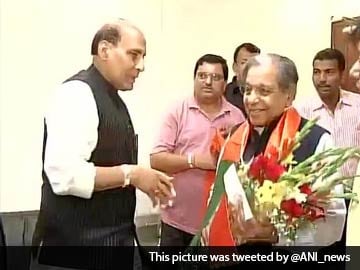 New Delhi:
Former JD(U) MP NK Singh joined the BJP today. He was officially welcomed into the party by BJP president Rajnath Singh.
Mr Singh, who quit the Janata Dal (United) yesterday, told NDTV that since JDU leader and Bihar Chief Minister Nitish Kumar ended his alliance with the BJP, last year the focus has shifted from governance and development to "survival."
73-year-old Singh joined the JD(U) in 2008. Before that, his career as a top bureaucrat included assignments as Revenue Secretary, member of the Planning Commission and secretary to former Prime Minister Atal Bihari Vajpayee.
Two months ago, the Bihar Chief Minister Nitish Kumar did not renominate Mr Singh for another term to the Rajya Sabha. Instead, he was asked to run for Parliament from the Banka constituency, a proposal Mr Singh rejected.
By moving to the BJP, Mr Singh will be spraying salt liberally on an open wound for the chief minister. Last year, Mr Singh drafted the formal announcement read out by Mr Kumar when he ended his 17-year alliance with the BJP over its decision to promote Narendra Modi to the top spot in its campaign for the national election.
Meanwhile, author and senior journalist MJ Akbar also joined the BJP today.