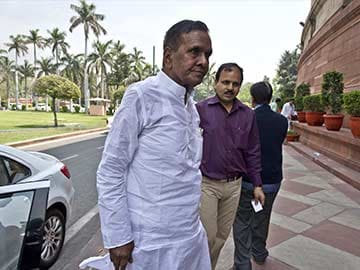 New Delhi:
Election Commission today issued a show cause notice to Union Minister Beni Prasad Verma for his "biggest goon" remarks against Narendra Modi, saying prima facie the senior Congress leader has violated the Model Code of Conduct.
The Commission has given him time till Saturday evening to present his views on the notice.
"Whereas, the Commission is, prima facie, of the opinion that by making the statement you have violated the provisions of Model Code of Conduct;
"Now, therefore, the Commission gives you an opportunity to explain your stand in making the said statement before 5 PM on April 12, 2014 failing which the EC shall take a decision without further reference to you," the notice said.
An FIR has already been registered against Verma in Balrampur for calling BJP prime ministerial candidate Narendra Modi the "biggest goonda" of RSS and party's President Rajnath Singh his "slave".
Verma had on April 1 stoked a controversy by dubbing Modi as the "biggest goonda" (goon) of RSS as the language being used by him in elections is not normally used in democracy.
"Modi could not have become prime ministerial candidate without the nod of Rajnath Singh. This proves that Rajnath Singh is not the president of the party but Modi's slave (ghulam)," Verma had said.
While serving him the notice, the EC reminded Verma of the clause of the Model Code of Conduct which bars parties and candidates from criticising all aspects of private life, not connected with the public activities of the leaders or workers of the rival parties.