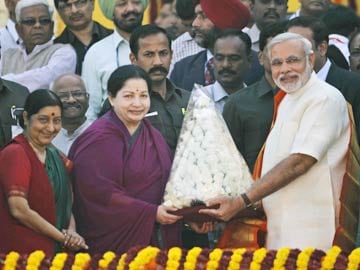 Chennai:
Narendra Modi
and
J Jayalalithaa
, the woman widely seen as a probable ally if the BJP's prime ministerial candidate fails to get a majority in the general elections, attacked each other at public rallies on Sunday.
Tamil Nadu chief minister Ms Jayalalithaa, who has so far avoided overt criticism of the BJP, fired the first salvo. At a rally in Karur in the Cauvery belt of her state, Ms Jayalalithaa accused the BJP of "betrayal" and of being no different from the Congress on the contentious issue of water-sharing between Tamil Nadu and Karnataka.
"With an eye on Lok Sabha seats in the elections, the BJP has not even mentioned the issue in its 2014 poll manifesto," the AIADMK chief said, asking people to ensure that DMK, Congress and BJP candidates forfeited their deposits.
Mr Modi was in Tamil Nadu and he lost no time in hitting back. Addressing his first rally in the state after the BJP stitched a six-party alliance in Tamil Nadu, the BJP leader accused Ms Jayalalithaa's AIADMK and its arch-rival the DMK of being unconcerned about the welfare of the people and only focusing on battling each other.
He also raised the emotive issue of attacks on Tamil Nadu fishermen by the Sri Lankan navy and vowed to protect them if the NDA, the national alliance that the BJP leads, is voted to power.
Opinion polls have predicted that Ms Jayalalithaa will walk away with a lion's share of Tamil Nadu's 39 Lok Sabha seats in the general elections now on. The bigger her tally, the more say she will have in government formation at the Centre in case of a hung parliament. (
Elections 2014: full coverage
)
Ms Jayalalithaa recently exited efforts to gather a non-Congress, non-BJP alternate front, feeding the speculation that she is prepped to support a BJP government should the need arise. She has in the past described Mr Modi as a "good friend" and was a prominent guest when he took oath as Gujarat's chief minister in December 2012 to begin his fourth straight term.
Opinion polls say the BJP is likely to be the single largest party in these elections, but its NDA is unlikely to get to the 272-seat majority mark in the 543 member Lok Sabha. Votes will be counted on May 16.