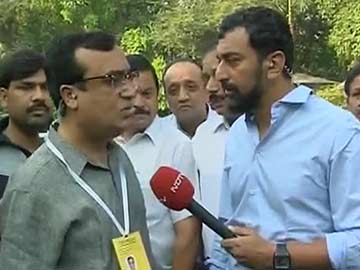 New Delhi:
Even before the counting of votes began for the national election this morning, the Congress admitted that their campaign had been weak.
"We could not match up to the resources of the BJP. We could not match up to their ad campaign, the full page ads they came up with...the amount they spent," senior Congress leader Ajay Maken told NDTV.
Mr Maken accepted responsibility for the failure of the Congress media strategy.
The Congress is widely predicted to be bracing for its worst-ever showing in this election. Amid doom projections, the party has been trying to defend Rahul Gandhi, its chief campaigner, who has been criticized for skipping a farewell dinner for Prime Minister Manmohan Singh on Wednesday.
The party said Mr Gandhi had met the PM before leaving and thanked him for his leadership. "He is back," Mr Maken confirmed today.
Mr Gandhi's absence at this time had raised speculation that he was unwilling to face questions about the party's performance.
Asked whether the party was conceding defeat, Mr Maken laughed.
"I think that we were not able to convey to the people the amount of work we have done...that needed to be communicated more to the people," he admitted.
In contrast to the Congress, the BJP and its prime ministerial candidate Narendra Modi have been seen to have electrified the campaign, blending traditional rallies with the use of social media and even 3D technology to reach out to the masses.
Asked whether his party was outclassed by the BJP in the first major election that played out on social media as much as TV channels, Mr Maken shrugged, "Our social media campaign only started last June."