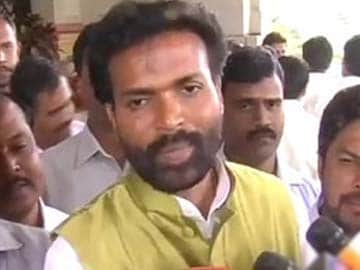 Bangalore:
BS Sriramulu, close aid of the jailed mining baron Janardhan Reddy, re-joined the BJP in Bangalore today. Mr Sriramulu had left the party and formed the BSR Congress after differences with the party leadership. But he is now all set to return to the fold - and is expected to get the ticket from the iron-ore rich constituency of Bellary. The seat is currently held by the BJP - Mr Sriramulu's sister, Shantha, is the sitting MP.
The BJP welcomed Mr Sriramulu despite open objection from former mentor-turned-detractor, Sushma Swaraj, who said he should not be allowed to come back. Mr Sriramulu seems to bear no grudge against Ms Swaraj for this.
"She is my mother and will remain my mother until my death. In a family, there is sometimes anger. The seniors may become angry. We should request them - and I will go and request her, if I have done any wrong, please forgive me," he told NDTV.
Karnataka state president Prahlad Joshi agreed there had been resistance from Ms Swaraj. "She had some reservations. But after due consultations with her, this decision has been taken," he said.
Ms Swaraj had been very close to Mr Sriramulu and the wealthy mining barons of Bellary - the Reddy brothers. But she distanced herself when corruption allegations were made against Janardhan Reddy.
In his re-induction, the BJP is clearly looking at vote-catchers after their dismal performance in Assembly elections held last year.
The BJP in Karnataka - and its prodigal sons - seem to have decided that it's 'united we stand, divided we fall'. Mr Sriramulu, like former chief minister B S Yeddyurappa, left the BJP to form his own regional party. But ahead of the Lok Sabha elections - they are back.