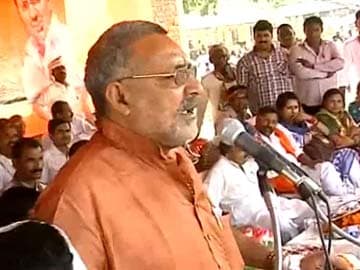 New Delhi:
The Election Commission has banned BJP candidate Giriraj Singh from campaigning in Bihar and Jharkhand for saying that those who oppose
Narendra Modi
"will only have place in Pakistan."
In its order, the Election Commission said Mr Singh's statement, "is totally violative of the principles of the Indian Constitution which guarantees equality before law and equal opportunity, irrespective of caste, creed or religion, and the scared right of free exercise of franchise by the electors."
(Read the full order)
It has asked the two adjacent states not to allow Giriraj Singh "to hold any public meetings, public processions, public rallies, road shows."
(India Votes 2014: full coverage)
It also observed, "These statements promote feelings of enmity, hatred and ill-will and create disharmony between different communities...and are also likely to disturb peace and public tranquillity."
A first information report has already been registered against Mr Singh.
In much embarrassment for the BJP, which has distanced itself from the remarks, its former president
Nitin Gadkari
was present when the Lok Sabha candidate from Nawada made the remarks.
Mr Modi, the BJP's prime ministerial candidate tweeted today, "Petty statements by those claiming to be BJP's well wishers are deviating the campaign from the issues of development & good governance...I disapprove any such irresponsible statement."
(No irresponsible statements please, says Narendra Modi after Togadia controversy)
Mr Singh, who was reprimanded by party chief
Rajnath Singh
, said today that he was not aware of Mr Modi's tweets and would comment on the matter only in court.
He had said on Saturday, while campaigning in Godda district of Jharkhand, "those who want to stop Narendra Modi (from becoming prime minister) are looking towards Pakistan. In the coming days, they will have no place in India. They will only have place in Pakistan."
(Read more...)
The controversy comes in the middle of a bitterly-fought national election that has seen many hate speeches and personal attacks.
Last week, the Election Commission had banned the BJP's Amit Shah and the Samajwadi Party's Azam Khan from campaigning in Uttar Pradesh after they allegedly made hate speeches.
It later allowed Mr Shah to campaign in UP after his letter seeking a review of the ban and promising that he would not disturb peace.
(Ban on Amit Shah lifted, Azam Khan refuses to apologise)