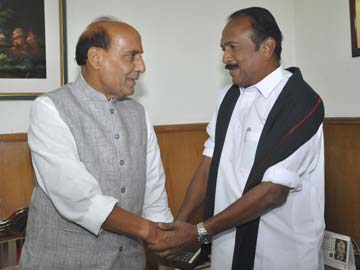 New Delhi:
MDMK chief Vaiko, an NDA ally, today opposed the invitation extended to Sri Lankan President Mahinda Rajapaksa for Narendra Modi's swearing-in ceremony and asked the Prime Minister-designate as well as BJP President Rajnath Singh to reconsider the decision.
The Tamil leader met Mr Modi in New Delhi in the presence of BJP leaders Amit Shah and Arun Jaitley.
"Rajapksa is the butcher of Tamils. Mr Modi should reconsider the decision to invite him (for the swearing-in ceremony on May 26)," Mr Vaiko told reporters after meeting Mr Modi.
Asked what was Mr Modi's response, Mr Vaiko did not say anything, indicating that he got no assurance.
He had written a letter to Mr Modi on this issue yesterday, expressing his sadness over the invitation being extended to Mr Rajapaksa for the event.
He also alleged that it was the Congress which wanted Mr Rajapaksa to come to Delhi.
"Congress wants Rajapaksa to come to India so that they could blame BJP for the plight of Tamils. ...BJP leaders from Tamil Nadu are also very upset with the decision of Modi," he said and urged the BJP to ensure that the Tamils' interests are protected.
According to him, Mr Jaitley said the concerns of Tamils is a national issue.
Earlier in the day, he met BJP President Rajnath Singh and demanded that the party should "avoid" the presence of Mr Rajapaksa at Mr Modi's swearing-in ceremony.
Mr Vaiko said he had requested Mr Singh to take up the issue with the Prime Minister-designate.
Recalling that no Sri Lankan Head of State was invited when Atal Bihari Vajpayee was sworn in as Prime Minister, Mr Vaiko pointed out that even Manmohan Singh had not invited the Sri Lankan President for his swearing in ceremony.
"They did not dare to invite Mahinda Rajapaksa to the swearing in ceremony in 2004 and 2009," he added.