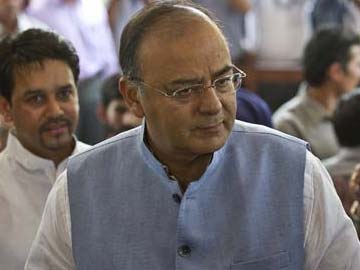 New Delhi:
Narendra Modi
's Cabinet Committee on Security or CCS will have not five, but four members for now. Senior leader and close Modi confidant
Arun Jaitley
is expected to double up as Finance and Defence Minister. (
10 Latest Developments
)
The CCS has as its members the Prime Minister and the Ministers of Home, Finance, Defence and External Affairs.
BJP president Rajnath Singh is expected to be Home Minister and Mr Modi's number 2 in government. Sushma Swaraj is expected to be named External Affairs Minister. Mr Modi and his council of ministers will be sworn in at 6 pm today. (
Track LIVE Updates
)
Mr Jaitley has been seen as the forerunner to be the country's Finance Minister for many days now. He has now reportedly also been asked by Mr Modi to hold additional charge of Defence, possibly with two ministers of state to assist him.
This morning, as a list of ministers was sent to the Rashtrapati Bhavan, there was much speculation that Mr Modi would keep the Defence portfolio.
Sources said the Prime Minister designate had offered Defence to both Rajnath Singh and
Nitin Gadkari
, a former BJP chief who has emerged as a member of the party's core team of decision-makers. Both Mr Singh and Mr Gadkari were reportedly reluctant to take up the key Defence assignment. (
No Murli Manohar Joshi in 'Below 70' Narendra Modi Cabinet
)
Mr Gadkari has now reportedly been penciled in to hold a mega transport portfolio which could have Railways, Surface Transport and Shipping rolled into it, sources said.
The three military chiefs will make presentations before Mr Modi after he is sworn in. In the 25-minute presentation, the chiefs will flag the security situation in the Indian sub-continent and brief Mr Modi about the situation along the Line of Control and the progress of infrastructure development along the China frontier.