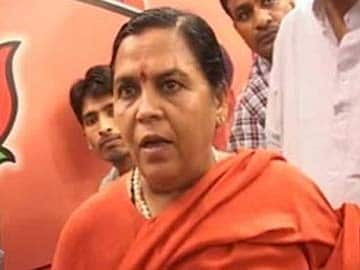 New Delhi:
Uma Bharti, the resident firebrand of the BJP, has said she will not take on Sonia Gandhi in her constituency of Rae Bareli for the national election.
The announcement ends days of speculation over a high-stakes battle between
Uma Bharti
, who describes herself as a sanyasin or monk, and Mrs Gandhi, the 67-year-old president of the Congress.
A direct face-off between them was being pitched loudly and repeatedly by yoga guru Baba Ramdev, who vowed to canvass door-to-door for the BJP leader if she acquiesced to his proposal.
Uma Bharti has already been declared the BJP's candidate from Jhansi in Uttar Pradesh. "I have told Rajnath ji that I can't leave Jhansi," she said today.
A contest with Sonia Gandhi would have seen her running from a second constituency in India's largest state. The BJP reportedly wants Uma Bharti to focus on Jhansi, located in the Bundelkhand region, where it believes she could help swing the vote in the party's favour in surrounding constituencies. "The party has decided that she will fight from Jhansi only," BJP's Sudhanshu Trivedi told reporters today.
The BJP is reportedly still mulling over whether to field actor-turned-politician Smriti Irani against Mrs Gandhi's son and Congress Vice President
Rahul Gandhi
in his constituency of Amethi.
Arvind Kejriwal
's Aam Aadmi Party has picked Hindi poet Kumar Vishwas to challenge Mr Gandhi, who has represented Amethi in the Lok Sabha since 2004.