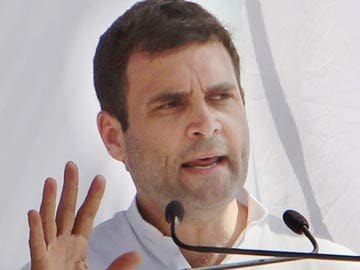 New Delhi:
Rahul Gandhi hits Narendra Modi's Gujarat again today, his second visit this month. Like Aam Aadmi Party chief Arvind Kejriwal did a few days ago, the Congress vice-president will meet the state's salt pan workers in the Rann of Kutch.
The Gujarat Congress stressed that the salt pan workers were "always on Rahul Gandhi's priority list" and that he wants to "understand their pain," seeming to underline that the change in plan was not impelled by Arvind Kejriwal's meeting with the community last week
Mr Kejriwal had landed in Gujarat for what he called an audit of Mr Modi's governance in the state; after a four-day tour he reported that Mr Modi's claims of development in the state - the centre-piece of his campaign as the BJP's prime ministerial candidate, are highly exaggerated.
The controversial visit saw high drama and also provoked clashes between the AAP and BJP in three cities, including Delhi, as Mr Kejriwal made much of a brief detention at a police station and later of not being accorded "due courtesy" by Mr Modi, who refused to meet him without an appointment.
Mr Kejriwal's party pits him in a direct contest against Mr Modi for the post of PM in next month's general elections.
Though Rahul Gandhi has not been officially named by his Congress party as its candidate for prime minister, senior leaders say he will be PM should the party win a third straight term at the Centre.
Before visiting the salt pan workers today, Mr Gandhi will also address a public rally in Balasinore township of Kheda district, one of the few Congress bastions left in the state that Mr Modi has not been able to wrench away. Union minister Dinsha Patel has been winning here for the last five terms.