VITEEE Results 2018 To Be Released On Or Before April 27; Check Counselling Dates Here
VITEEE 2018 results will be released on or before April 27 on the official website, www.vtu.ac.in.
Education
| NDTV Education Team | Updated: Apr 25, 2018 9:37 pm IST | Source: NDTV
VITEEE 2018 Results:
In a latest update, VIT told NDTV that the VITEE 2018 results will be released on or before April 27. According to the earlier schedule, the
results were scheduled to be released on April 25
, i.e. today. "The results will be released either on April 26 or on April 27," a Vellore Institute of Technology (VIT) official told NDTV today.
VITEEE 2018 results
will be released on the official website, vit.ac.in. On a related development, VIT has released first phase counselling dates for the candidates who qualify with ranks till 20,000.
From Rank 1 - 8000 the counselling will be done from May 9, 2018 while the candidates who holds ranks from 8001 to 14000 will be done on May 10, 2018. Candidates with ranks from 14001 to 20000 will be given slots on May 11, 2018
Update: VITEEE Result 2018 Link Activated @ Vit.ac.in, To Be Released Anytime Soon
The varsity has asked the candidates to book the Train / Flight tickets in advance to participate in the VITEEE Counselling in Vellore Campus / Chennai Campus / VIT-Bhopal / VIT-AP.  
VITEEE 2018 Results: Counselling Dates, Slot, Time
Different slots and time for VITEEE 2018 counselling first phase for all campuses in Vellore, Chennai, Bhopal and Amaravati is given here: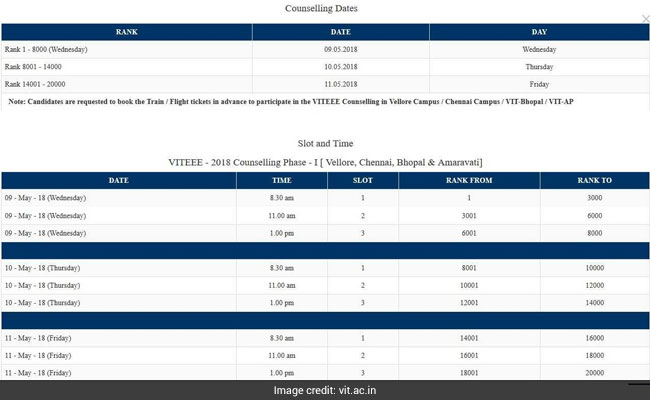 VITEEE 2018 counselling schedule
VITEEE 2018 spot booking was started last month on the official website of the exam. VIT had then opened the window for the spot booking for the Vellore Institute of Technology Engineering Entrance Exam (VITEEE) 2018 on the website, www.vit.ac.in.
Click here for more
Education News