New Delhi:
Utkal University has released the Provisional
Result
of 3 Final Year (BA, B.Com, B.Sc) Regular 2017 (2014 Admission Batch) Including First University Second Back & Second University First Back Examination in the official results website of the varsity. In April this year, the Utkal University had made the results of final year exams of the plus three degree examinations of university available. The results are available at Utkal University's examination management system, uuems.in website.
The university has in April said that those who have reappeared 1st or 2nd Exam 2017 have to await publication of 1st and 2nd 2017 result. Utkal University had also then said that the result is likely to be published in the last week of May 2017 and which will have the combined result.
Utkal University Plus 3 Final Year Regular 2017 Results: How To Check
Candidates who are checking for the results can follow these steps to check their results: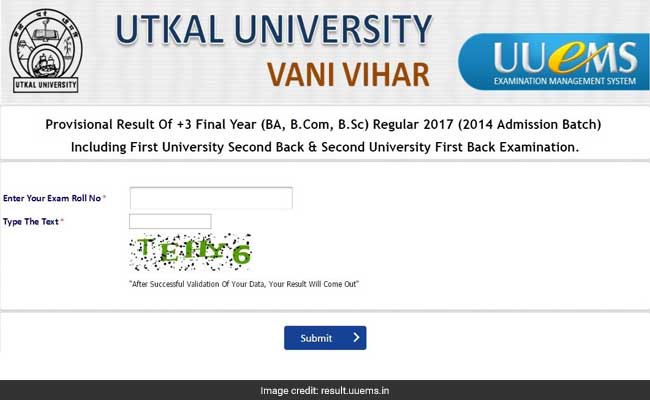 Step One: Go to the official website of Utkal University's examination management system, uuems.in
Step Two: Click on "Provisional Result of 3 Final Year (BA, B.Com, B.Sc) Regular 2017 (2014 Admission Batch) Including First University Second Back & Second University First Back Examination", given in the home page
Step Three: Enter the required the details in the next page
Step Five: See your results
(Note: The results website usually do not respond or show error when encountered with large number of users at a time. The candidates are advised to have patience to see the results)
Click here for more
Education News